That's a wrap on 2022…and what a year it was. Height experienced huge amounts of growth this year, and we can't wait for what's next.
Before we kick off the new year, let's reflect on:
What we built + how it's shaping productivity for so many teams
Key results from Height Rewind
How our team has grown and changed this year
What We Built This Year: New Features ✨
This year, the Height team launched 15 new features, including 4 integrations with other tools and softwares. All of these features and integrations aligned with our mission of being the most flexible and adaptable all-in-one project management tool.
Here's a recap of what we launched this year and how each one will impact your team.
#1: Gantt Charts 📊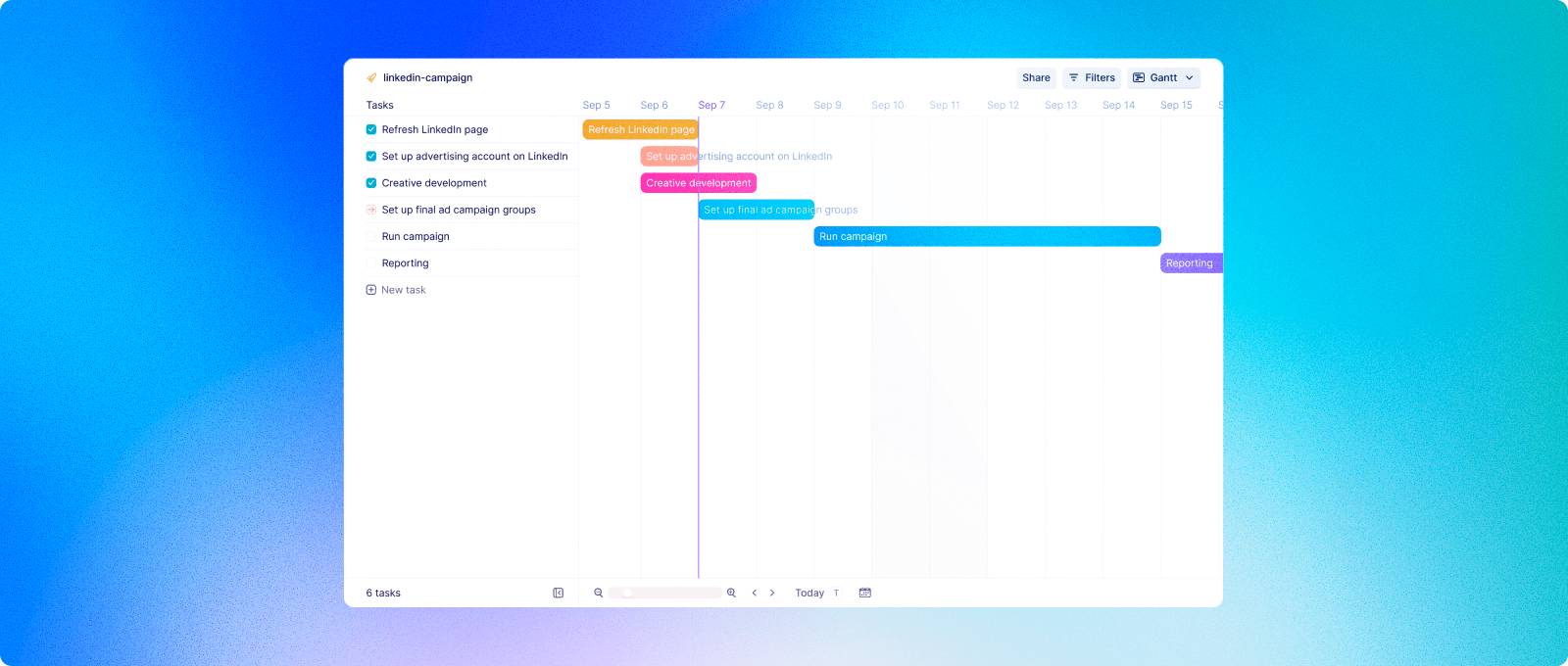 Another view option we launched this year is Gantt charts. These are really clear visual timelines that make it easy to see overlapping deadlines or potential project delays before they happen.
And even if you love using Gantt charts, with Height, there's no need to commit — switch project views at any time, from Gantt to Kanban to spreadsheet.
#2: Enhanced Calendar View 📅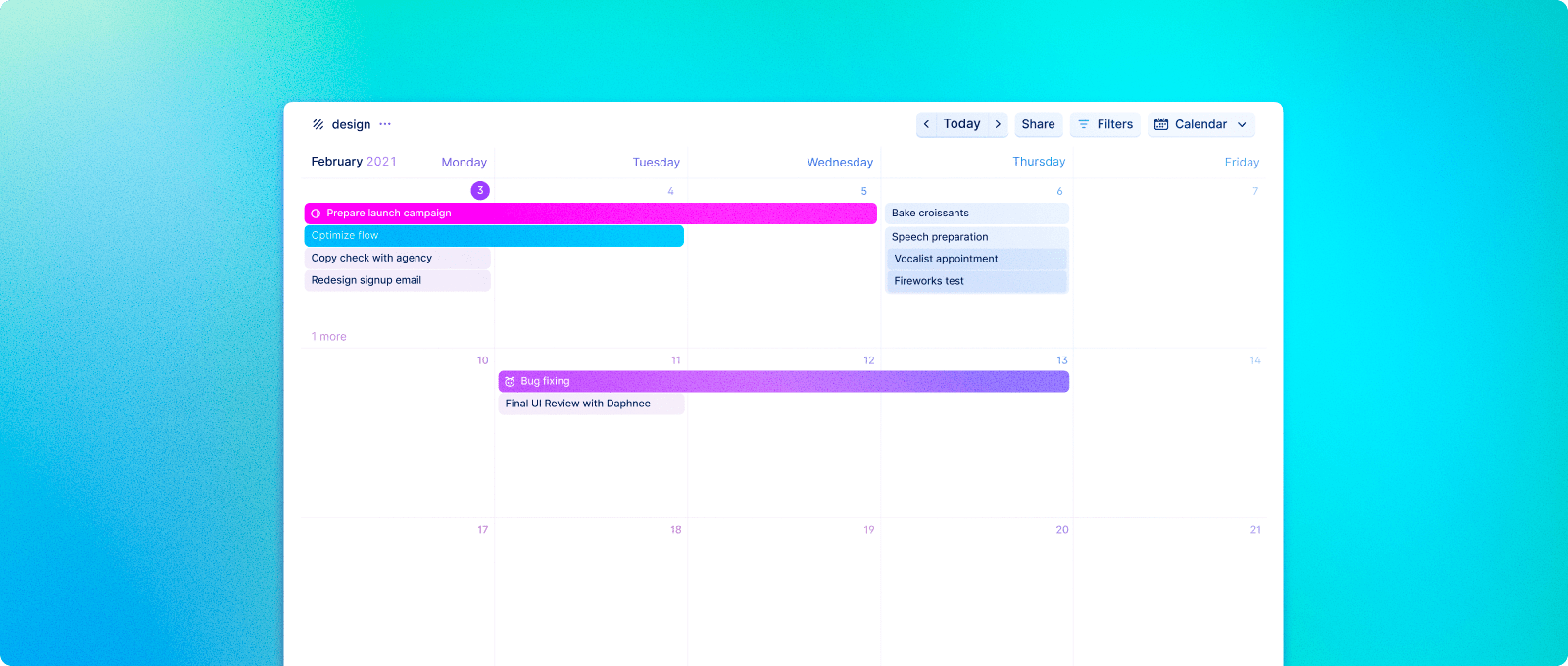 We greatly improved the calendar view to give you a monthly snapshot of projects. Stay on top of what's coming up and see important deadlines at-a-glance. Even better, create calendars that span multiple teams, projects, and even orgs, then seamlessly manage cross-functional work with drag-and-drop and bulk-editing.
#3: Height iPhone App 📱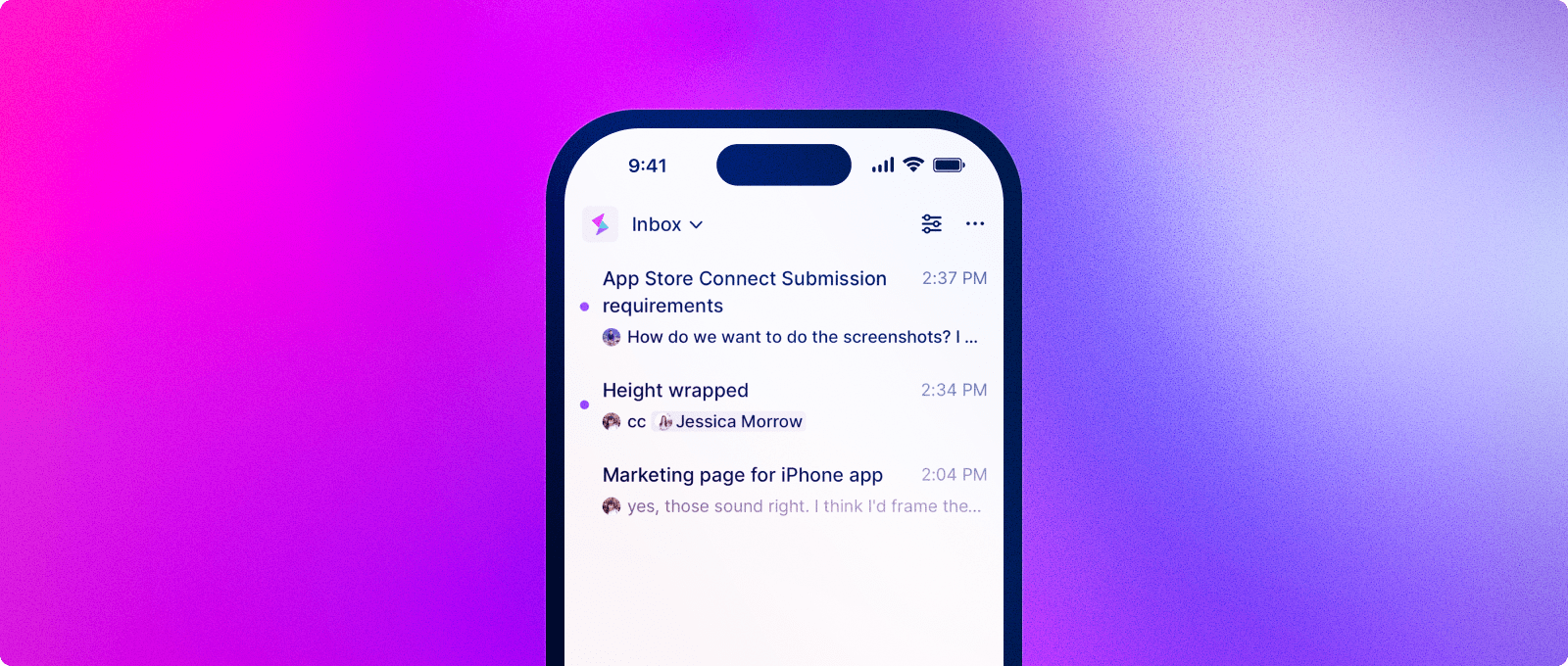 Mobilize your task management with our new iPhone companion app. Stay in the loop, respond to messages, and even create or update tasks on-the-go.
#4: Task Forms 📄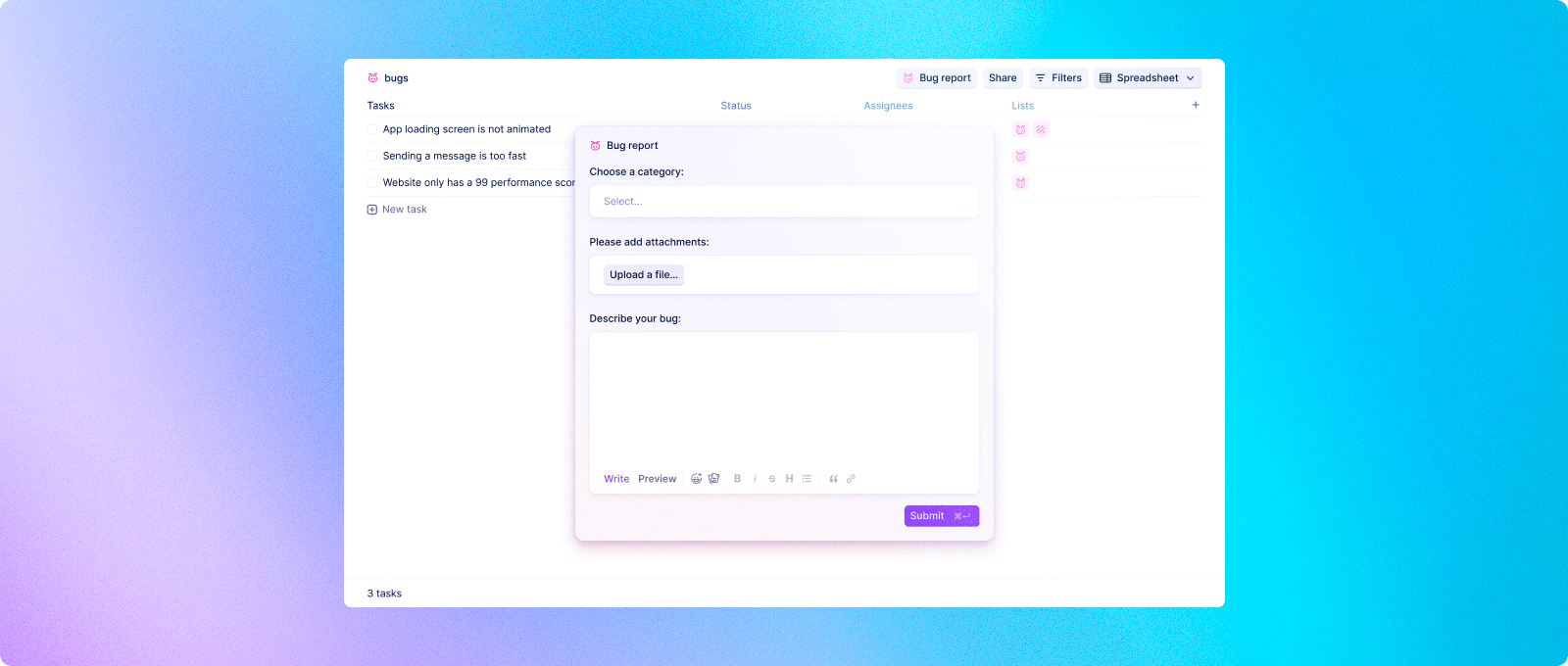 Make organizing and completing incoming requests a breeze with our Task forms feature. Automatically create subtasks for each new request and streamline those requests by creating custom forms with relevant questions.
#5: Automations ⚙️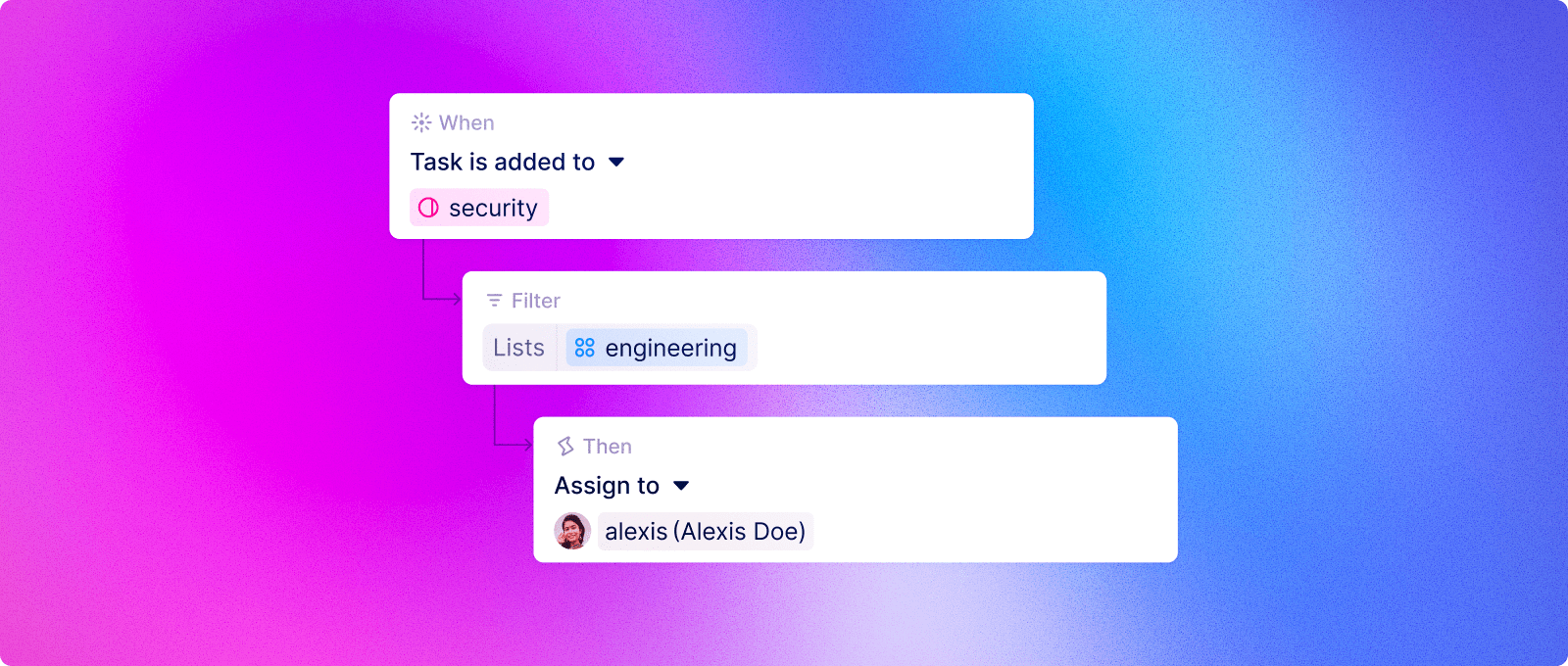 Magically keep your tasks up-to-date with Automations (currently in beta). Start automating repeat processes with custom workflows.
#6: Code to Task 🧑‍💻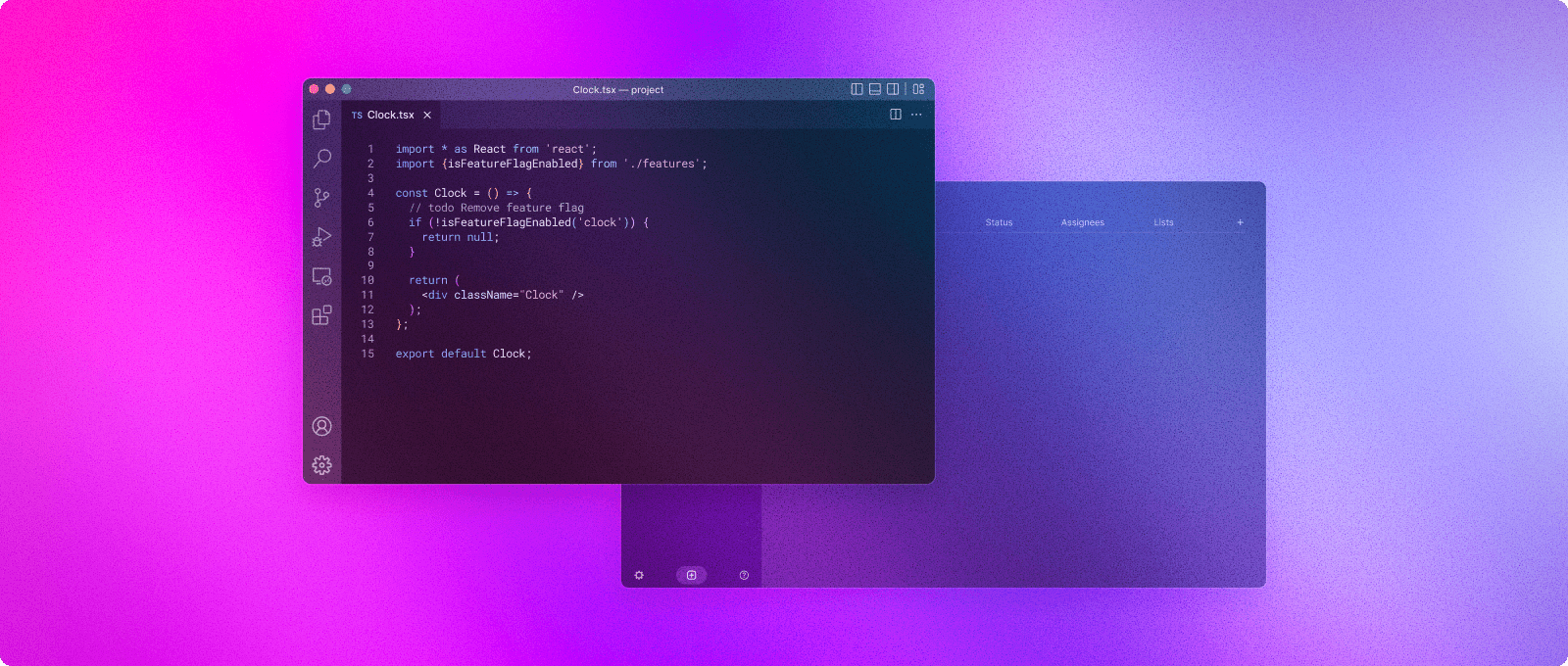 Automatically create tasks right from your code comments. The Code To Task feature works in any IDE and supports nearly 40 languages, so gone are the days of leaving your //todos for dead. Just save your file and new tasks will be created instantly.
#7: SOC 2 Type II Security Compliance 🔒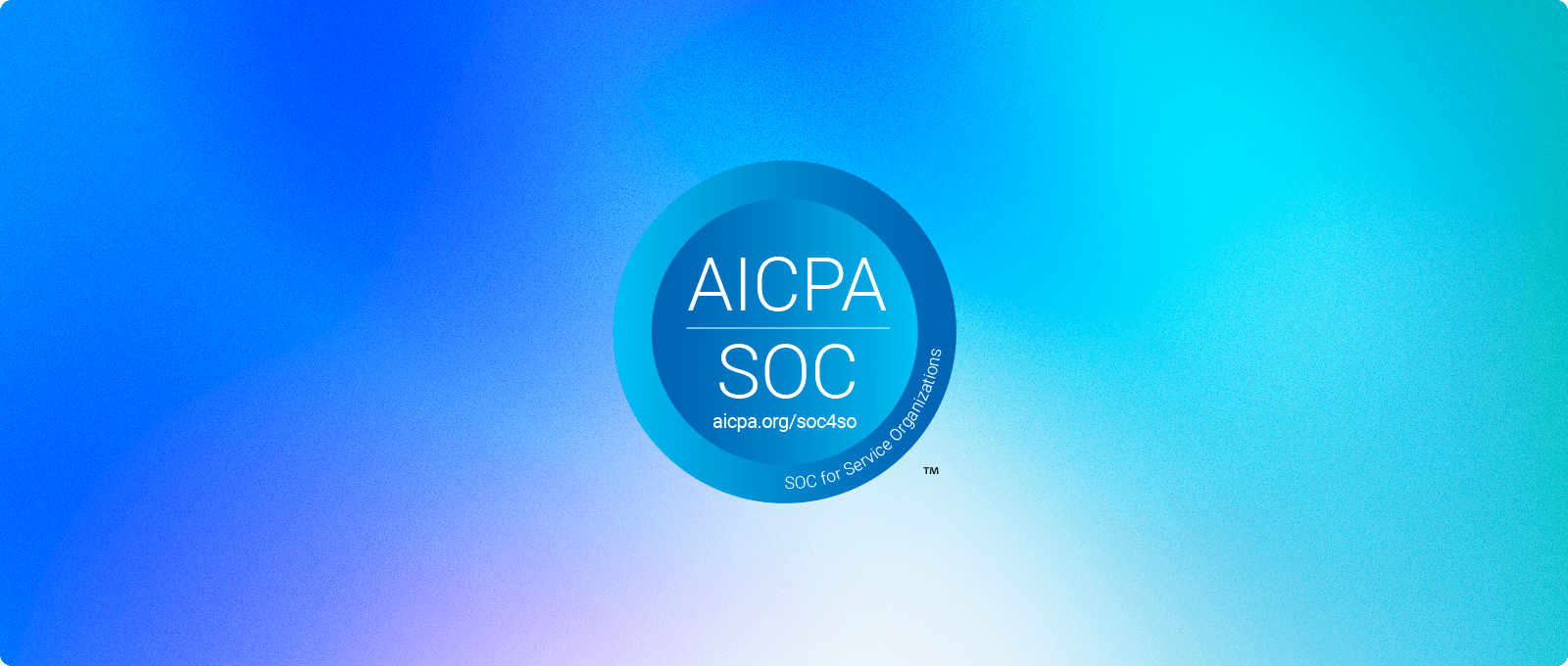 This year, we underwent our first SOC 2 type II audit and received our certification. This is just another way our team is working hard to prioritize treating customers' data with the highest level of security.
#8: Snooze Tasks In Your Inbox 💤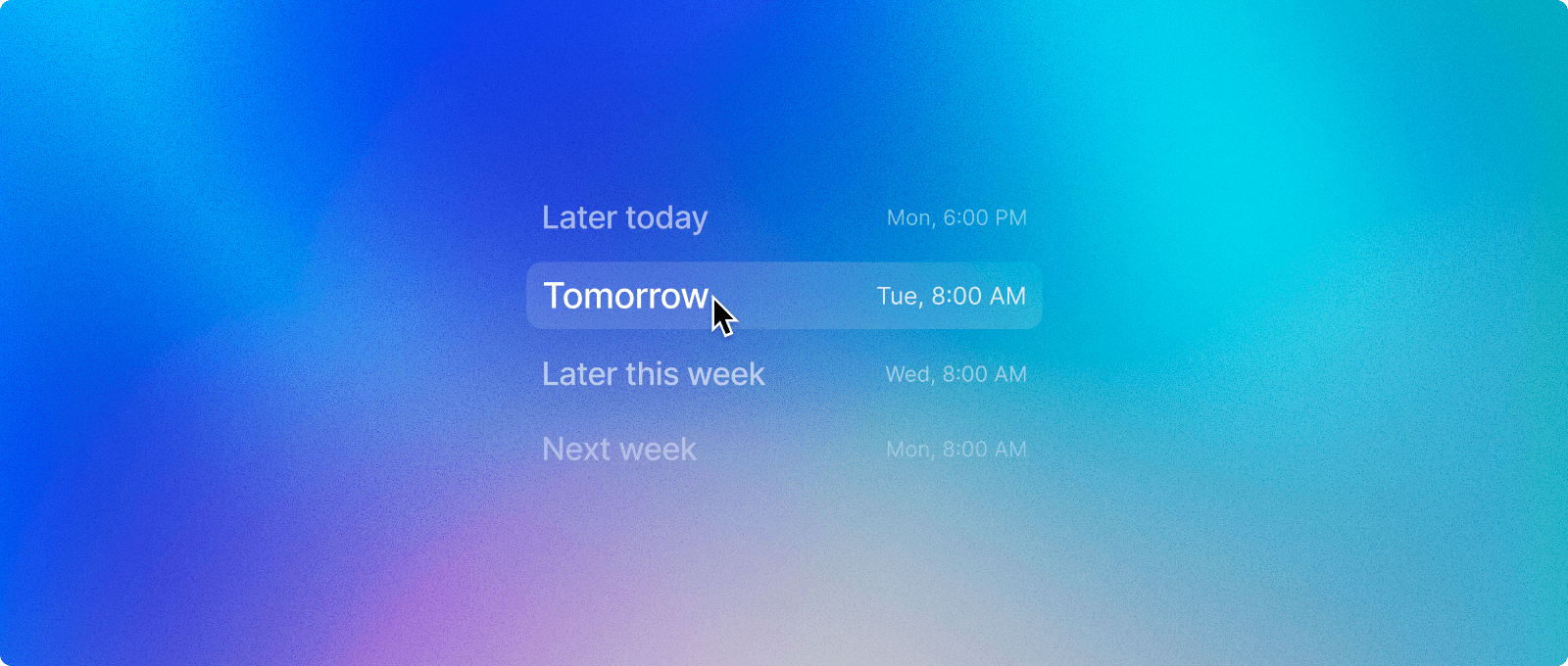 This feature is literally the 'snooze' button, but for tasks you want to come back to later. Hide specific tasks from your Inbox for specific periods of time so you can focus now, but get a reminder and come back to the task later.
#9: A Fully Customizable Inbox 📥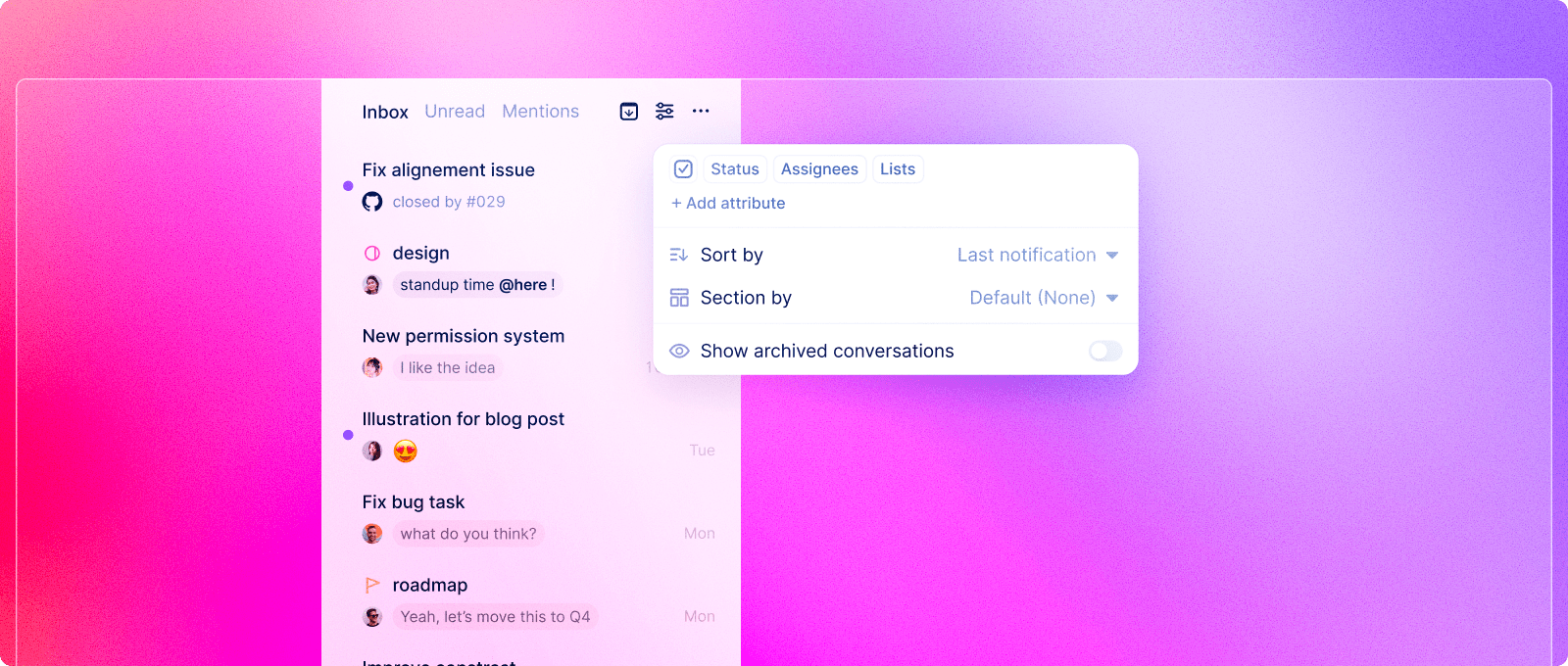 With key features like sorting and sectioning, you'll be able to stay on top of your notifications (almost) effortlessly. Decide which tasks you want to see in your Inbox, archive conversations that you're finished with, and fully customize what kinds of notifications you'd like to receive. Height's customizable Inbox lets you filter by unread notifications or by mentions to help you prioritize the messages you need to address.
#10: Automatic Cross-Posting With Slack and Height 📨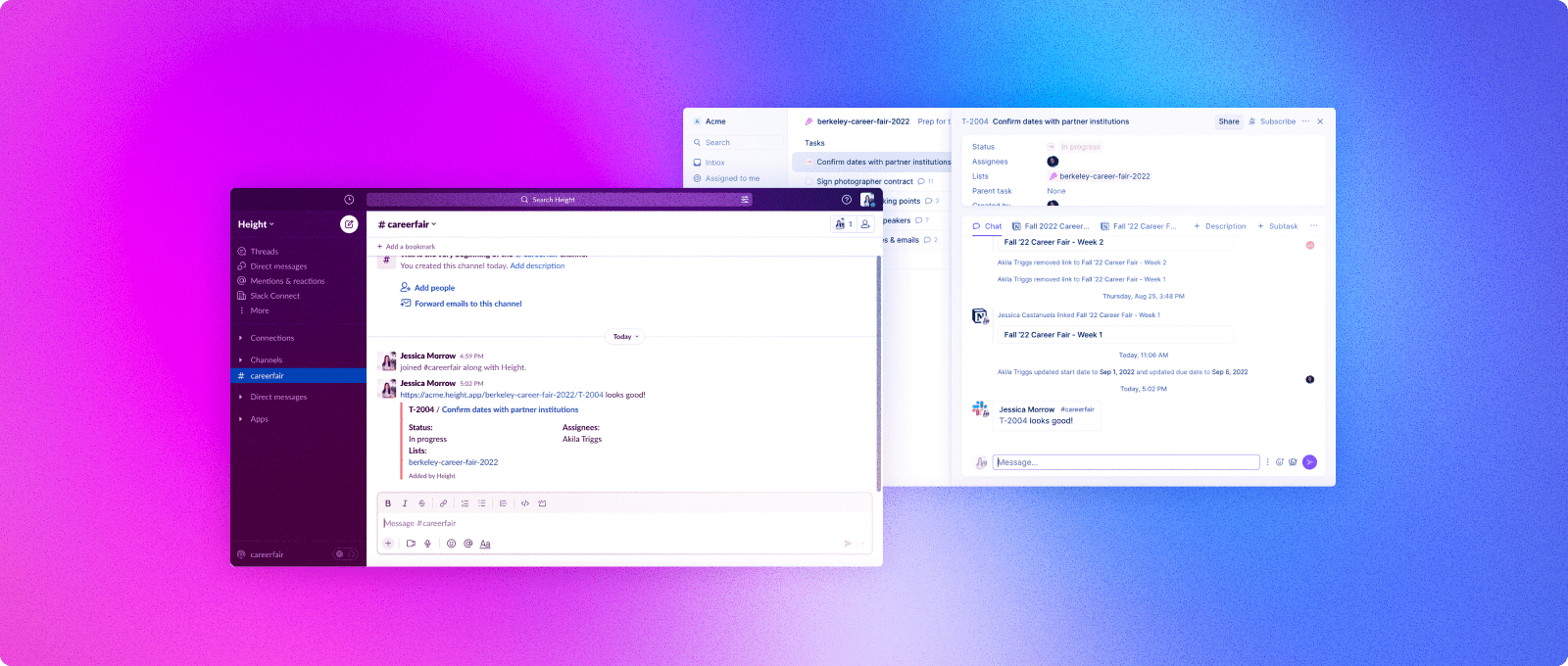 Streamline communication by keeping all conversations about a task in one place — never lose a conversation about a project again. If someone mentions a Height task in Slack, the message will automatically cross-post to the comments of the Height task.
#11: Height Rewind ⏪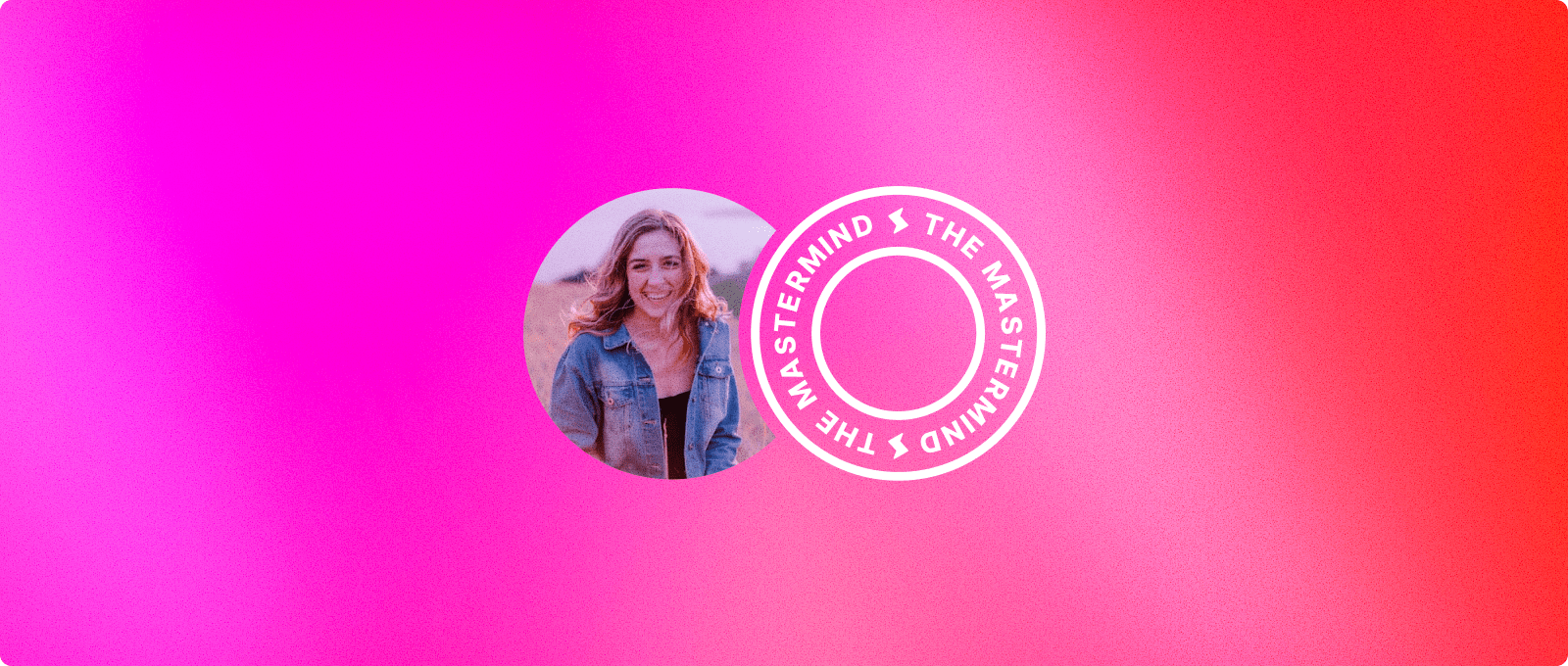 The end of the year is always fun, but this year was extra special as we launched Height Rewind. Users can connect their Height, Asana, or Jira accounts and get a recap of key productivity stats…and a unique work persona badge.
We'll share some key takeaways from this in just a minute…but spoiler alert, it was awesome.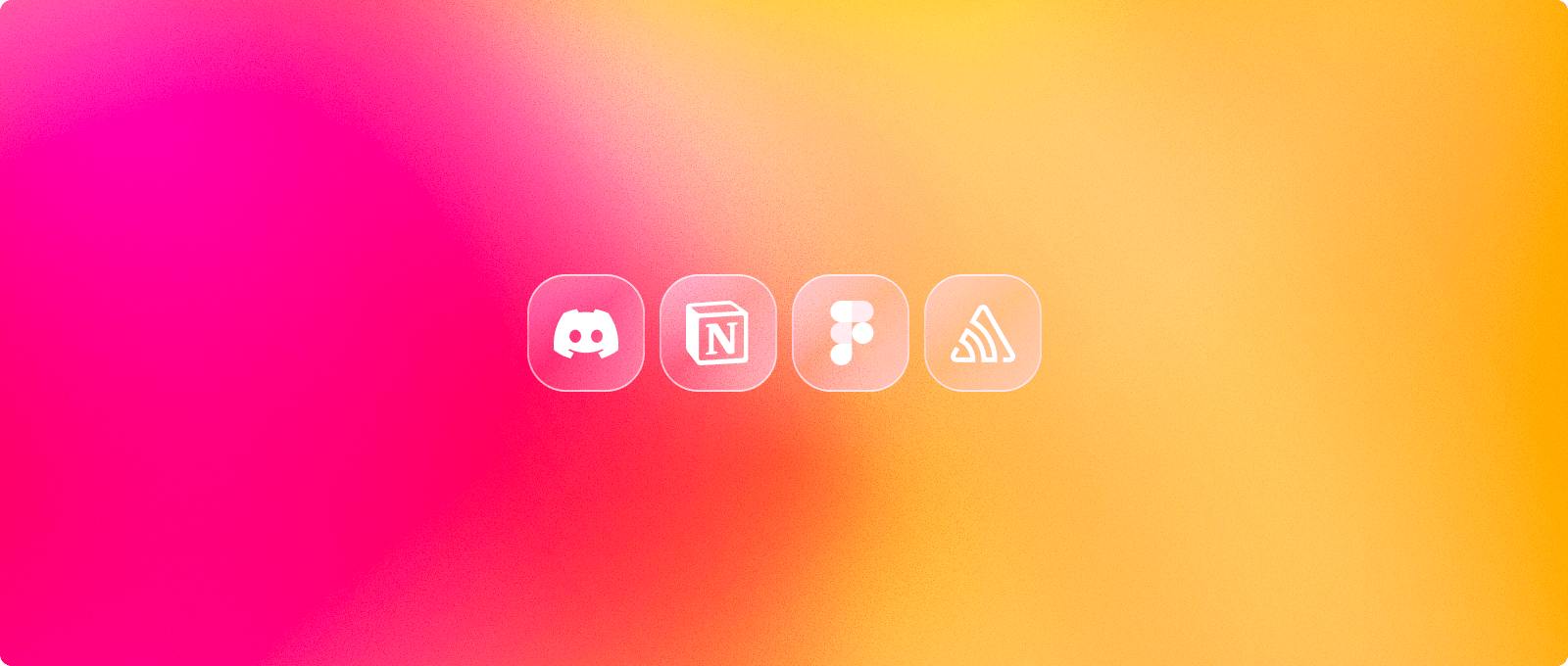 In 2022, we launched four new integrations: Discord, Sentry, Notion, and Figma. These integrations will help elevate your project management experience to be more seamless — connecting you with the tools you're already using to centralize communication and make hitting your deadlines the norm.
How We Worked This Year: Height Team Rewind Results 👯‍♂️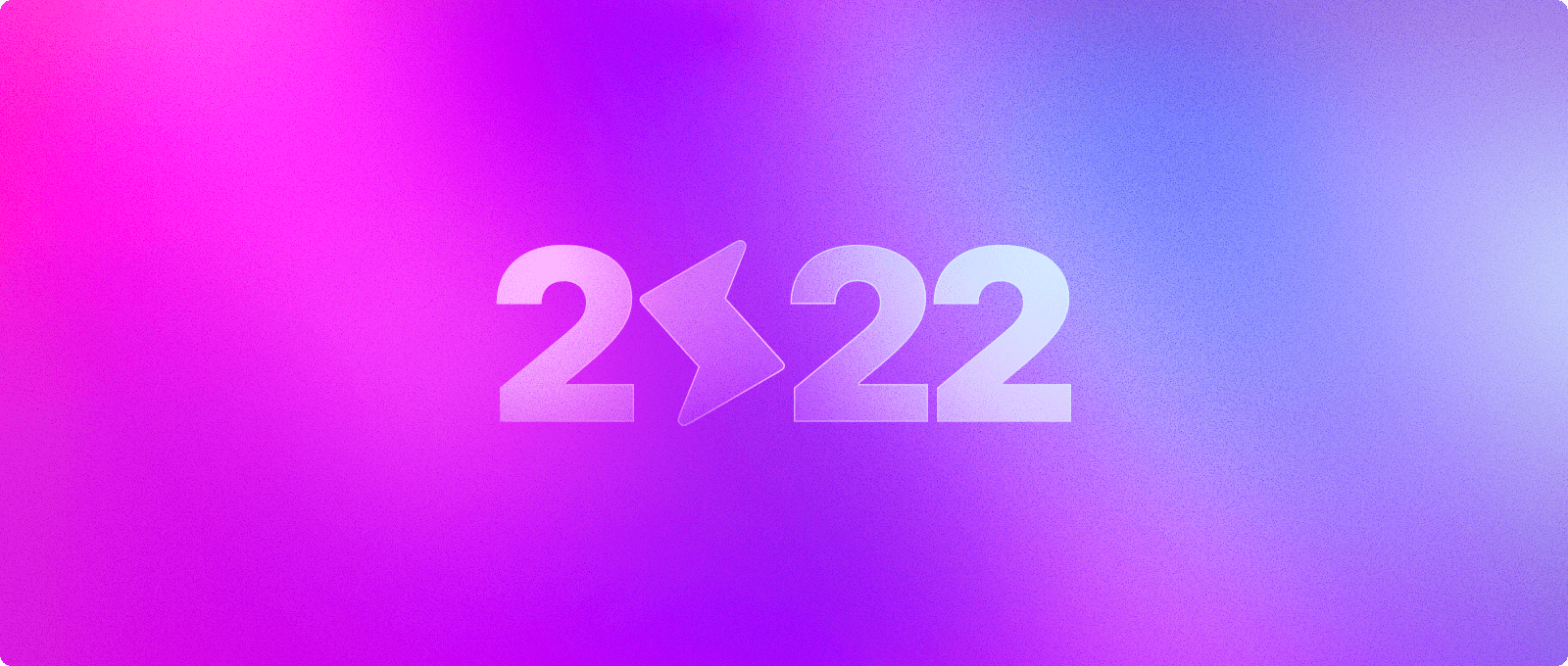 We're pulling back the curtain and sharing exactly how much the Height team actually accomplished this year (don't judge us).
2022 By The Numbers 🤓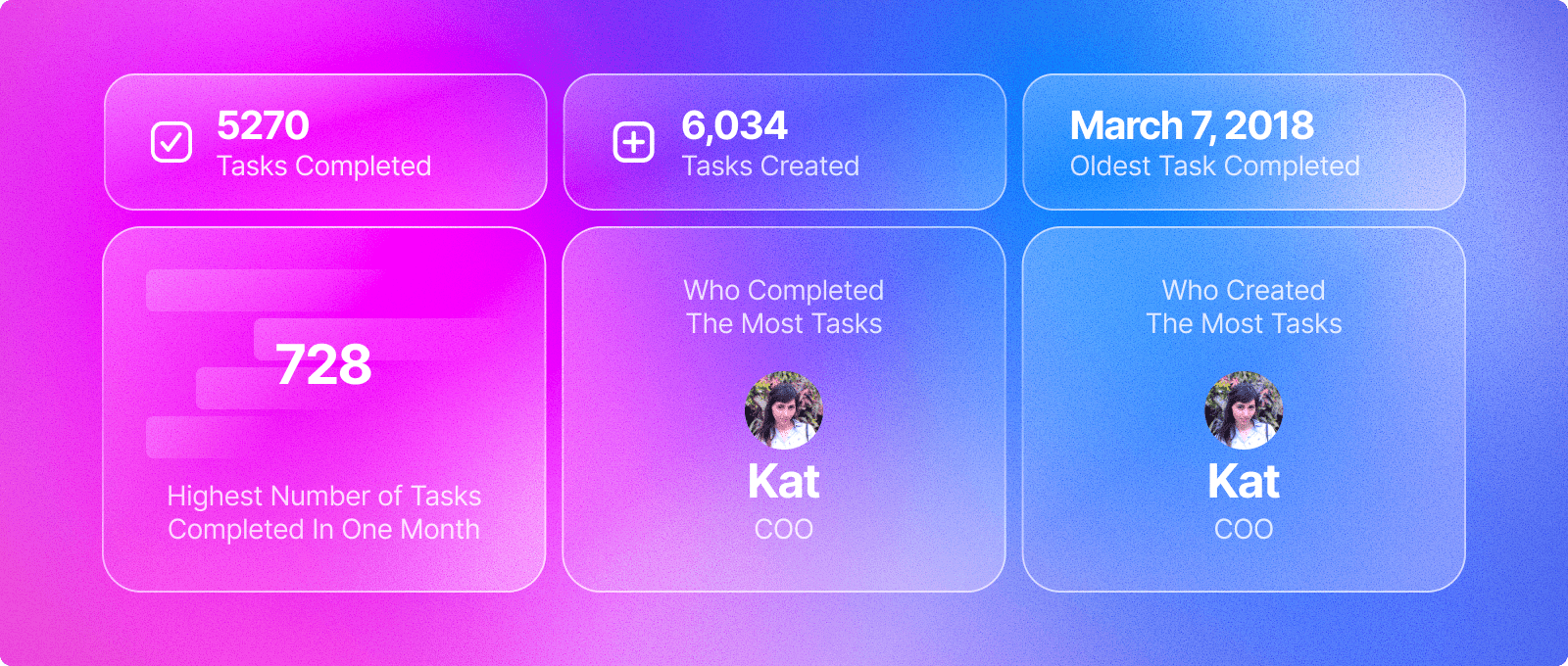 Total Tasks Completed: 5,270 (that's about 15 tasks a day…not too shabby dusts off shoulders)
Total Tasks Created: 6,034 (we're big planners around here)
Highest Number of Tasks Completed In One Month: 728 (November was a busy one for us!)
Oldest Task Completed: was from March 7, 2018 (it only took four years for this one to get checked off)
Person Who Completed The Most Tasks: Kat, our COO (very on-brand 👏)
Person Who Created The Most Tasks: Also Kat, our COO (way to show us all up, Kat 😉)
2022 By The Reactjis 🖼️
Our team really liked these reactjis this year:

👍 - a classic (it probably made your list, too)
👀 - apparently we really like this one…even though there are read receipts in Height 🤷‍♀️
1️⃣ - lots of votes for ideas with this one
But we also enjoyed these:
💯 🙏 👏 😍 🥳 🙌 🤙 😂 ❤️ 🎉 😅 ➕
2022 By The Badges 🏅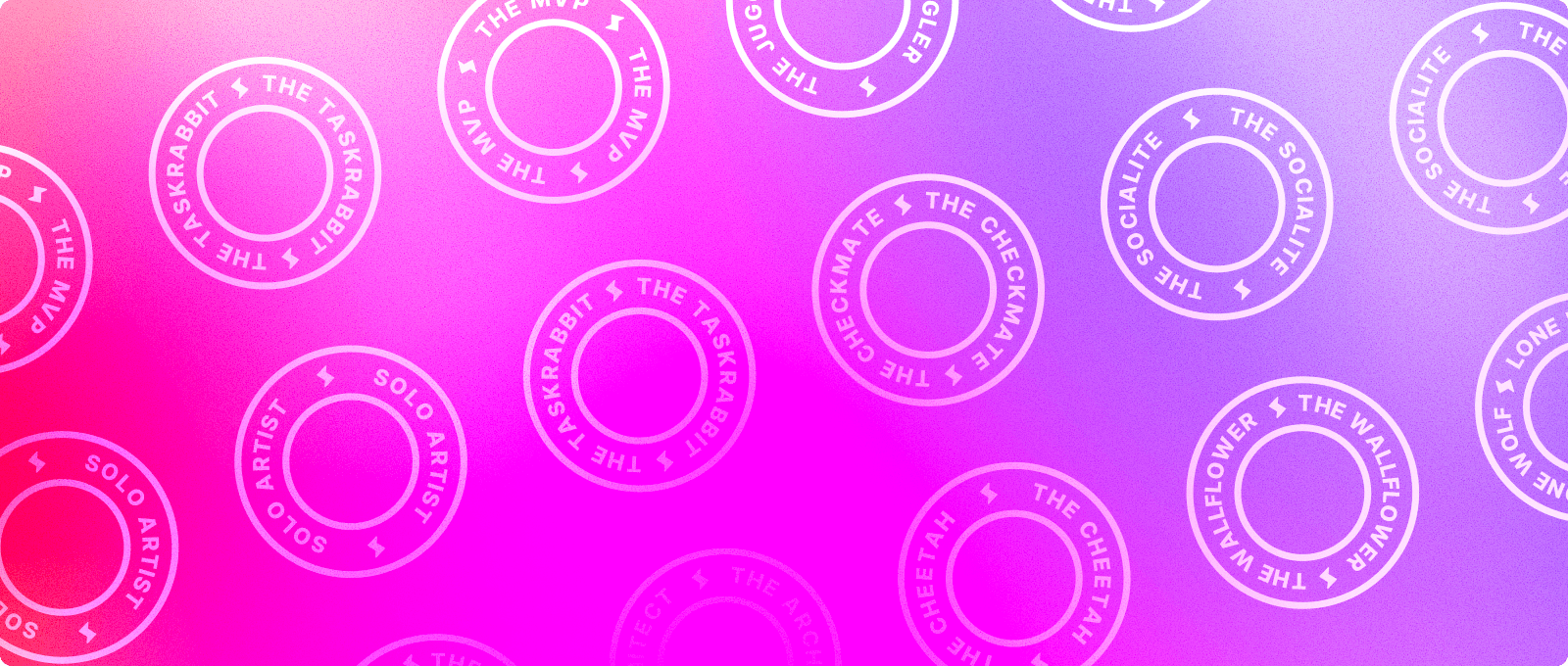 Our team's individual Height Rewinds were interesting, and honestly, pretty accurate if we do say so ourselves.
We had three teammates get "The Juggler" badge. Guess it's time to start a circus 🎪
We also had three teammates receive "The MVP" award. Is it really an MVP if you don't have more than one? We don't think so 😉
Other than that, here's the lineup, if you're curious:
The Solo Artist (2 Height team members)
The Taskrabbit (2 Height team members)
The Checkmate (2 Height team members)
The Socialite (2 Height team members)
The Mastermind (1 Height team member)
The Wallflower (1 Height team member)
The Cheetah (1 Height team member)
The Lone Wolf (1 Height team member)
The Architect (1 Height team member)
How The Height Team Grew This Year 🌱

In 2022, our team doubled in size — we grew from 9 to 18 team members. Our marketing team also got started this year, growing to four people by the end of 2022.
Height is fully remote, but this year, we welcomed teammates working globally in even more countries. We have people working in Europe, Brazil, and across the United States and Canada.
We also hosted two company offsites this year: one in Mexico, and one in Arizona.
What's Next: Looking Ahead To 2023
We can barely believe how much happened this year (and these were just the highlights!).
We're beyond excited for what's next at Height — we can't wait to keep building tools to help the whole company work together. There are big plans and launches already in the works for 2023. Keep an eye out…it's going to be awesome.
We're thankful for each and every one of you. Height is, ultimately, about supporting people, and we're so grateful for the chance to build out tools and resources that make work better. Cheers to 2023! 🥂