As more companies embrace remote work, team building and camaraderie can sometimes take a backseat. After all, working remotely is amazing for so many reasons, but it does make it hard to get to know your coworkers the same way as you would in-office.
Playing online games can be a great way to build camaraderie and strengthen relationships with your coworkers. They're quick, easy, and often free — which make them perfect for facilitating that team bonding on a consistent and low-effort basis.
In honor of launching Be My Guess, our new lie-for-your-teammates game to energize standup meetings, we've rounded up seven of the best games for remote teams to play together in the workplace. Get ready to connect with your remote teammates — working together has never been so fun. 💃🕺
Why is virtual team building important, anyway?
Team building and engagement is probably more important for fully remote or distributed teams than those working in-office. As a team leader, you have to very intentionally facilitate team bonding and camaraderie. That way, everyone feels included, valued, and respected — and enjoys being a part of the team.
And having real friendships with those you work with actually has been proven to increase retention. Employees who have a best friend at work are significantly more likely to:
Engage customers and internal partners
Get more done in less time
Support a safe workplace with fewer accidents and reliability concerns
Innovate and share ideas
Have fun while at work
Games are a great way to facilitate virtual team building, and these seven will help you jumpstart your team's new sense of camaraderie.
The 7 best games to boost remote team building
Best for: project updates in a fun, engaging way
Pricing: free
Players: 4 - 20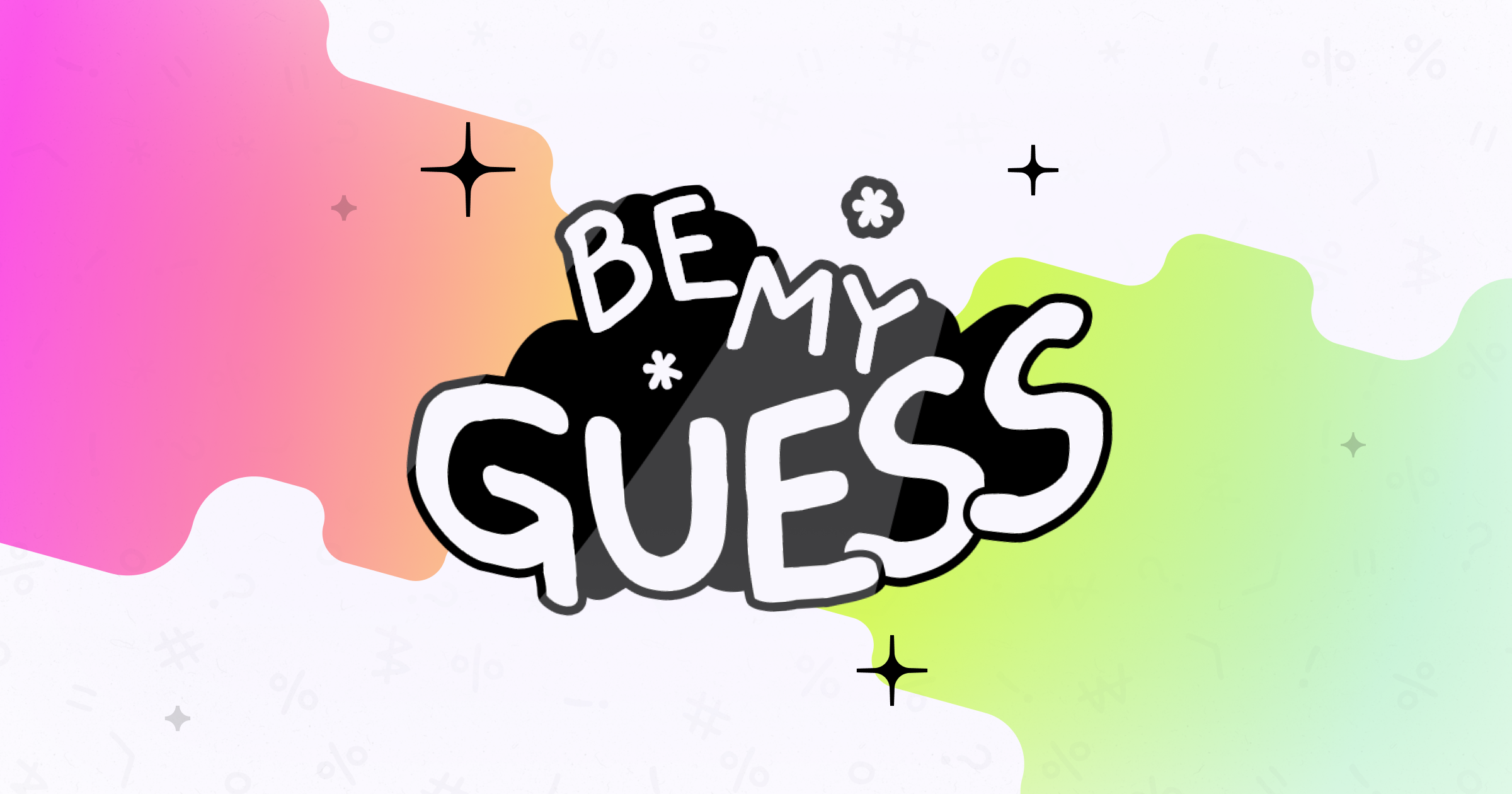 Our team has spent the last few months developing our own game: Be My Guess! The game is a way to bring new energy to your standups — seeing what your colleagues are working on has never been more interactive or engaging. The game is free to play, and you don't even have to be a Height user (or use any project management tools).
Be My Guess isn't just a fun game — it's team bonding with actual work benefits, because it takes the place of regular standups, getting everyone aligned and makes delivering updates more engaging.
Here's how Be My Guess works:
✏️ Describe a task you're currently working on.
🤭 Lie for three of your teammates about what they're working on.
📝 Guess what every player is actually working on (try to see through the lies!)
💯 Earn points for being the fastest to guess the correct answer — and for others guessing your lie.
⚡ Play the lightning round, where you'll try to be the fastest to remember what each teammate was really working on (for a major score boost)
🥇🥈🥉 See the winners + get a shareable written record of what everyone's working on.
Best for: getting creative and competitive
Pricing: free
Players: 4+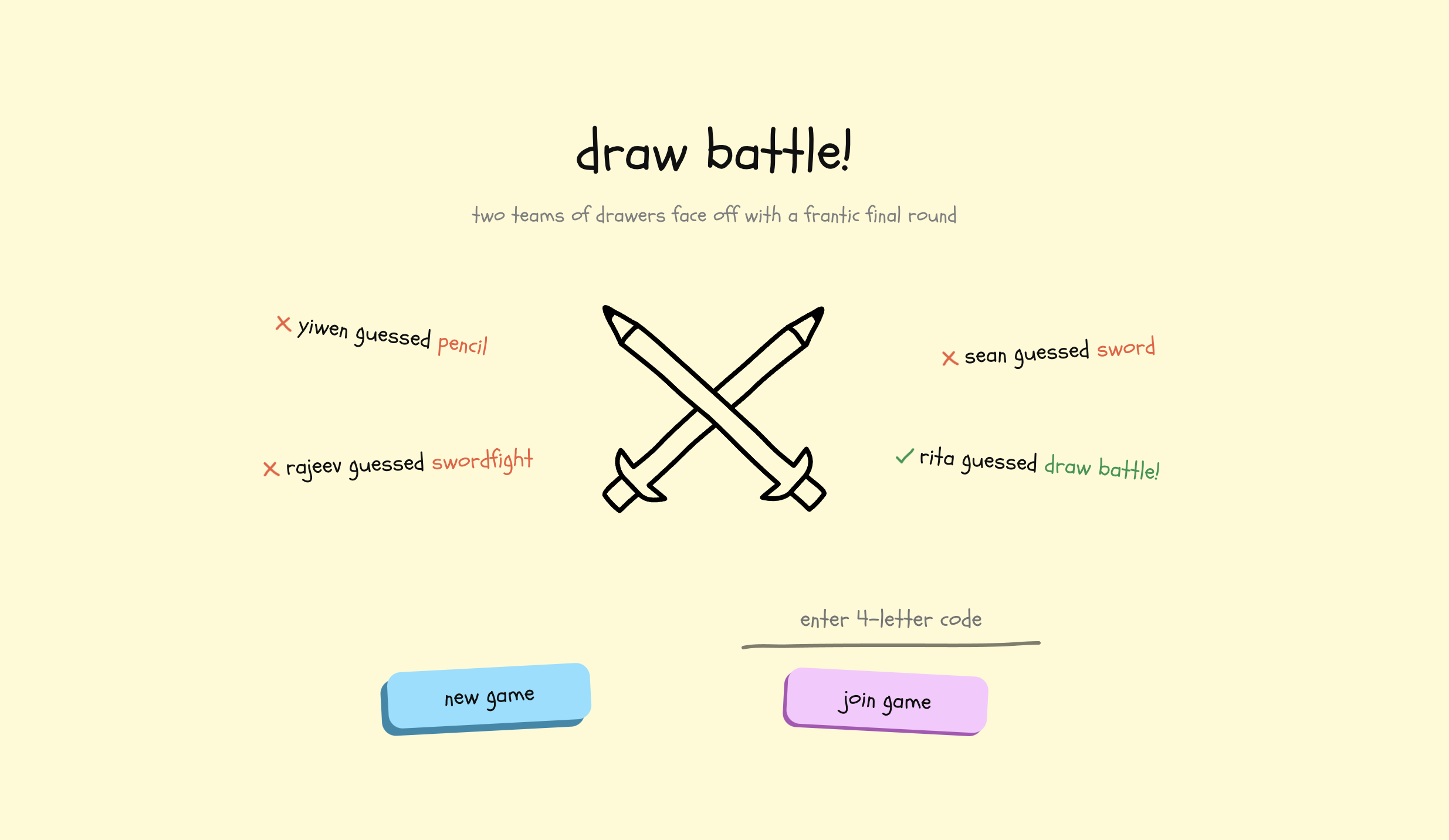 If you ever played Pictionary, draw battle! is going to feel familiar, but with a twist. You'll split up into two teams, each with two or more players. Both teams are given the same word, and your goal is to draw and guess the correct word before the other team does.
At the end, there's a (frantic) final round where you'll replay all of the same words again (so make sure you've paid attention to the answers, even if you didn't win the first time around!).
The game is so much fun, and totally free to play. At Height, our team plays this one every Tuesday, and it's hilarious seeing the team's 'artistry' (or lack thereof) play out.
Best for: simple team fun + bonding
Pricing: free
Players: 2+ to 4+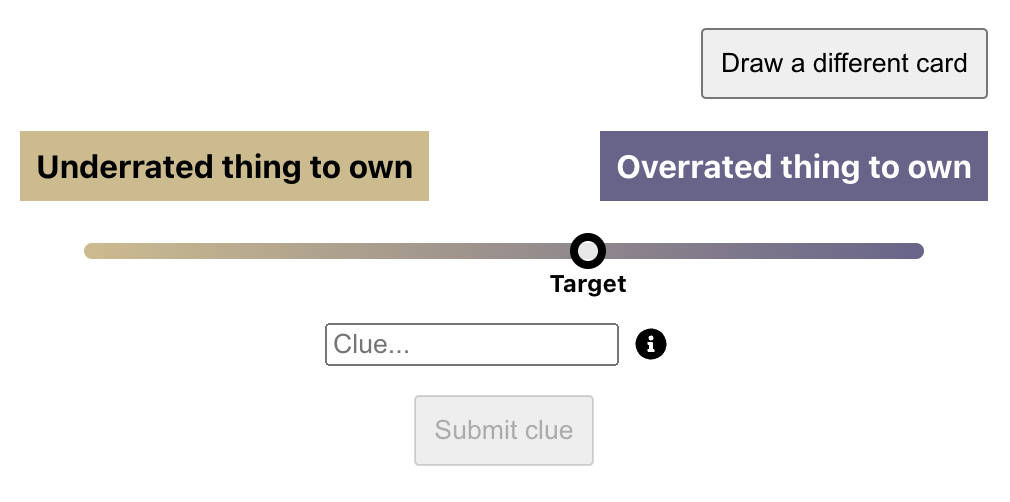 Longwave is a free online, real-time adaptation of the board game Wavelength. Our team loves playing this game while we're in a Google Meet — that way, there's a pretty hilarious running commentary about the game.
The game is all about figuring out where something falls on a spectrum: hot or cold, young or old, wizard or…not a wizard? (Sounds random, we know…but when you play, you'll see what we mean).
There are three game modes: free play, with 2+ players; cooperative, with 2+ players, or the standard mode with teams (at least 4 players total). Whether you play individually or in teams, someone will be given a visual with where the clue should land on the spectrum, which has labels on either end. It's up to that person to give everyone a clue — they'll try to guess, based on that clue, where the marker on the spectrum actually is.
Best for: creative teams
Pricing: free
Players: Up to 20 in one room
skribbl.io is a free online multiplayer drawing and guessing game — sort of like Pictionary or draw battle. Normally, the game consists of a few rounds. Each round, one player draws a chosen word, and the other players have to guess it correctly to earn points!
At the end of the game, the person with the most points is crowned the winner. Be warned: you might see a competitive side of your teammates you weren't expecting 😏
Best for: large teams
Pricing: free
Players: up to 50 in one room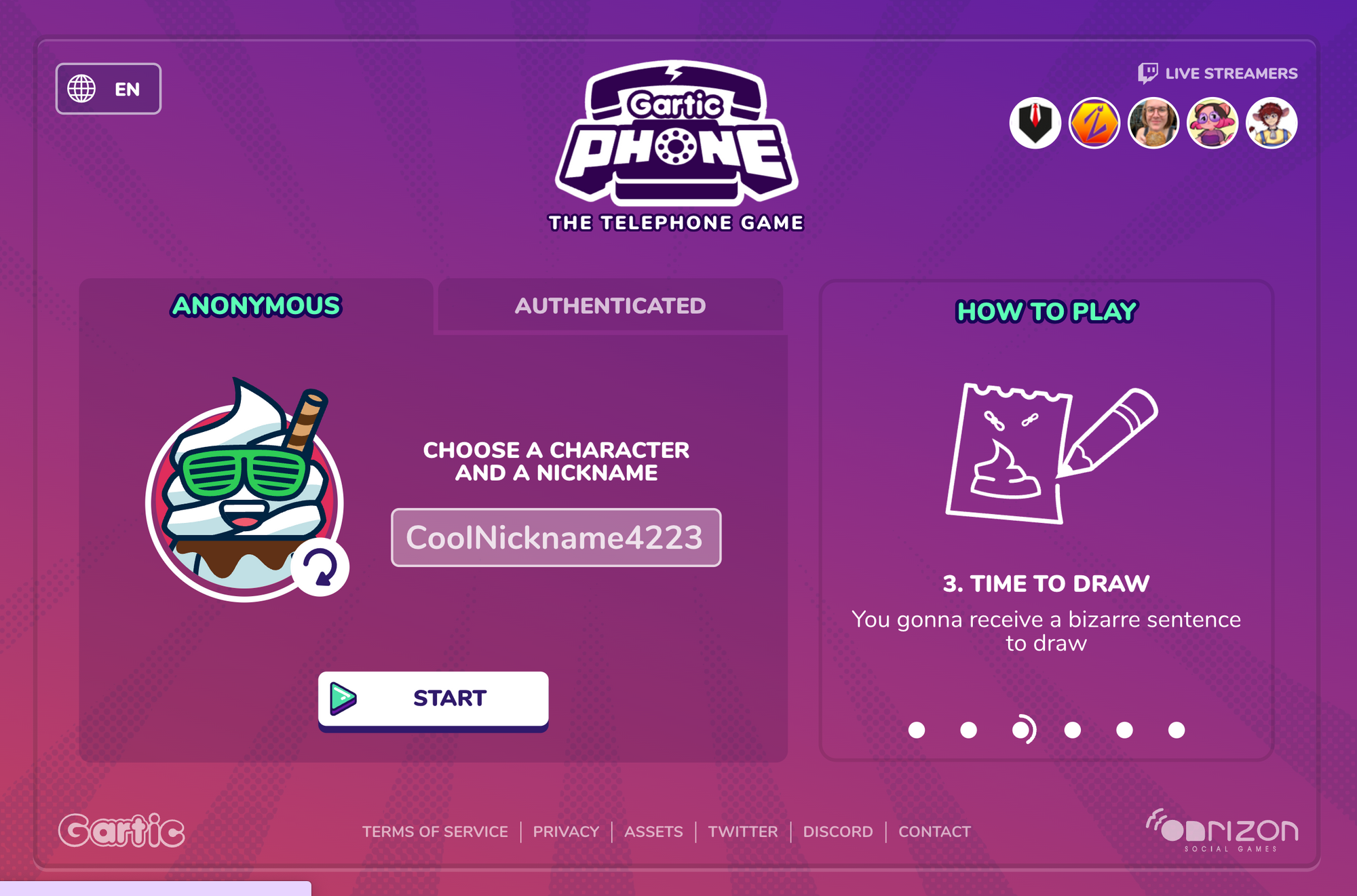 Remember playing the game "telephone" when you were younger, trying to guess what the original sentence was after it's been morphed over and over? Gartic Phone is bringing that energy to the remote team environment.
To start, every player will write some kind of quirky sentence. You'll receive someone else's bizarre sentence to draw. Then, you'll try to describe someone else's drawing of another weird sentence — after everyone's done this kind of weird, round-robin of drawing and describing, you'll get to see the results, including the original sentences. It's so funny!
Best for: quick team engagement
Pricing: free up to 5 players
Players: 5, 8, or unlimited, depending on if you choose the free plan or a paid plan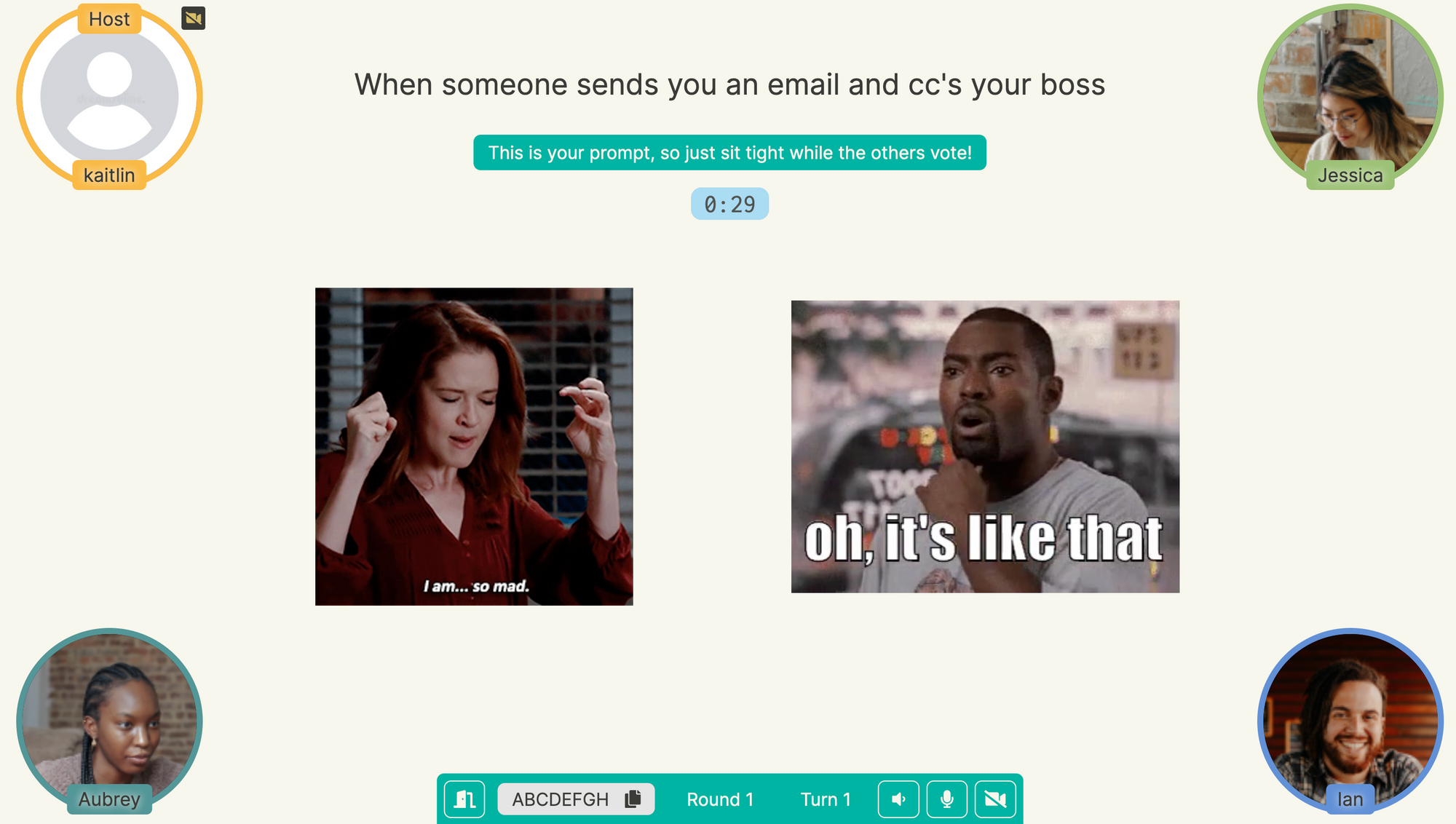 Weavr is a super fun game to help keep your whole remote team connected. This is one of the best games for remote teams to play during kickoff meetings for projects, new employee onboarding, and even before a presentation (get all those nervous jitters out and boost everyone's energy!).
You and your coworkers will enter a virtual room and answer quick, fun questions about life, work, and each other with GIFs and text. Up to 5 players can play for free, with pricing plans starting after that, and the game usually lasts for about 10-15 minutes with three rounds of prompts and questions about your team and work culture.
When the game starts, players anonymously answer two questions (using GIFs or short-answer text). Then, players get to vote on the answers they like best, duel-style with two (anonymous) answers facing off head-to-head. Every time someone votes for your answer, you'll earn points — so try and think about what your teammates would find funny! After round three, the final scores are revealed and answers get emailed to all players for posterity (and reflection).
Best for: team building experiences and events
Pricing: varies
Players: flexible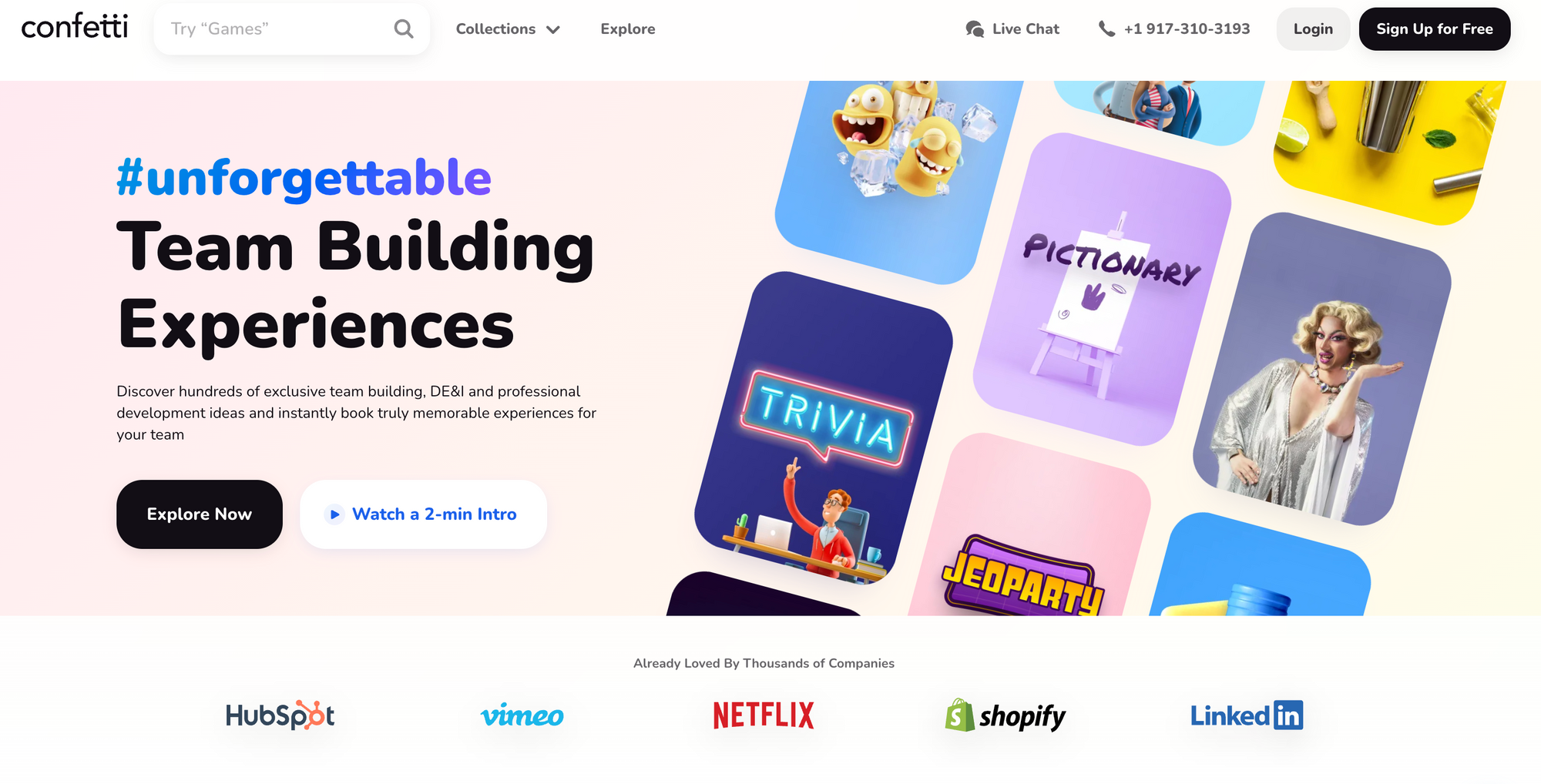 While Confetti isn't exactly one remote team building game, it's still a ton of fun and a way to bring your whole company together. You can browse tons of curated team experiences, ranging from "Coworker Feud" (a take on Family Feud, but for work), trivia games, and virtual escape rooms to actual live crafting or baking workshops with supplies included.
You can browse all of the events Confetti offers, or filter by your budget, headcount, or preferred format (totally virtual or hybrid).
Wait — does playing games at work actually benefit teams?
Though most of us probably don't think of playing games as boosting productivity, that's exactly what happens! When we carve out intentional time for team bonding and fun activities, teammates are more engaged and have more 'buy-in' to want each other to succeed.
The more your teammates know and trust each other, the more positive your work culture will be — and you'll be able to accomplish better, more collaborative work, too.
Should games be a component of remote meetings?
Adding games to your team meetings helps keep them engaging, exciting, and more importantly, energized. A game like Be My Guess helps replace the "go around and say what you're working on" repetitiveness of standups, while games like Weavr let you take a few mintues to kick things off with personality and fun.