Today, we're diving into a process critical to all startups, regardless of product or industry: candidate tracking. If, like us at Height, your founding team is comprised primarily of product and engineering folks, chances are you haven't been the ones to set up recruiting processes yourselves before.

If that's the case, here's one key thing to keep in mind about recruiting: by increasing the speed at which you attract and hire top talent, you increase the speed of executing on your product roadmap. When your product development accelerates, you can get to product-market fit faster.

That said, setting up a candidate tracking system doesn't have to slow you down or be expensive — read on to learn how we navigated the challenges of candidate tracking and recruiting without an ATS system.
Why it was so important for us to efficiently track candidates
At Height, one of our primary hiring goals is to give every candidate a fast-moving, seamless experience. We want every person we talk to as part of our recruiting process to have a positive impression of the process, and of Height, regardless of if they end up joining the team or not.
Keeping people in recruiting limbo doesn't sit right with us, and also decreases the chance that you can close a great candidate (never underestimate the power of momentum!).
Is an applicant tracking system necessary for startups?
Short answer? No. While Applicant Tracking System (ATS) tools do have an impact, when you're a startup (small, fast-growing, and without a full recruiting team), getting a bit crafty and developing your own candidate tracking system saves you hefty costs and lets you deliver a high quality hiring experience.
Instead of having yet another tool in your repertoire that your team members have to learn, check in on, and update regularly, park your hiring processes right within your project management tool. Having hiring tasks right where other work is happening keeps it front and center, making it easier for to get responses to candidates quickly.
Before moving to a dedicated ATS tool, we wanted to develop a process that optimized for accelerating hiring decisions, while keeping things as simple as possible. The solution was obvious: tracking candidates right within Height.
Our candidate tracker needed to be effortless to keep organized, especially when hiring for multiple roles at once
We started playing around to see what really worked, and have been fine-tuning ever since to land on a candidate tracking Kanban board. The board has sections for each stage of the hiring process. When a candidate moves from one stage to the next, it's as simple as dragging and dropping their specific task in the Kanban board. We also have separate subsections by team, making it easy to see with one glance the state of the design team's recruiting versus engineering's or marketing's. This helps keep hiring managers' lives simpler, but also gives leadership quick and accurate visibility into recruiting pipelines.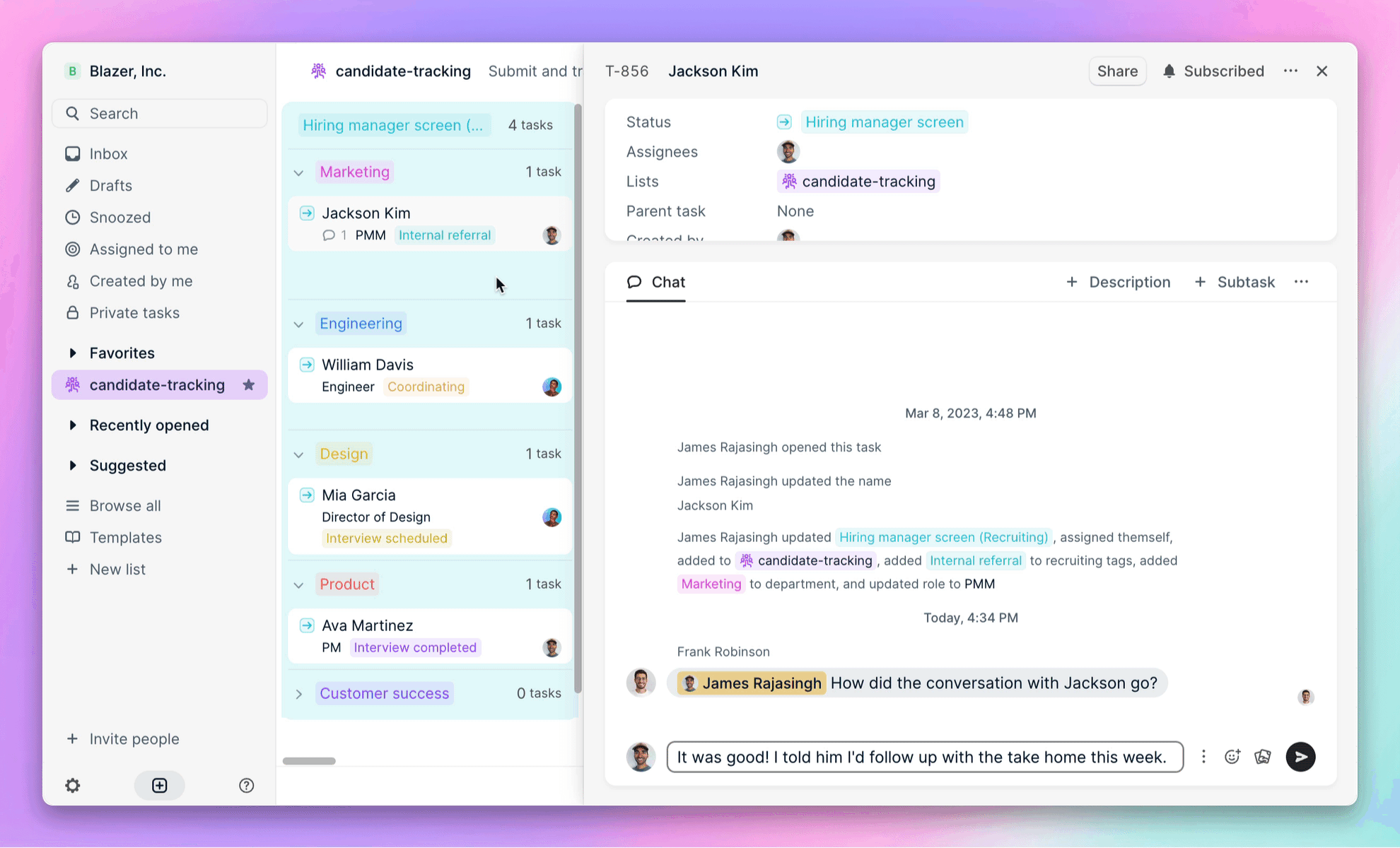 Our interview process includes a few streamlined steps represented by the Kanban columns, including a hiring manager screening, optional take-home exercises, and a full round of interviews with multiple members across the team. Storing all of those steps as statuses inside of Height helps keep both interviewers and hiring managers organized.
One of the biggest benefits for us of tracking candidates within Height is that interviewers' candidate evaluation tasks are housed in the same spot as their regular day-to-day work, meaning they share their evaluations much faster than when they have to open a separate ATS to submit them.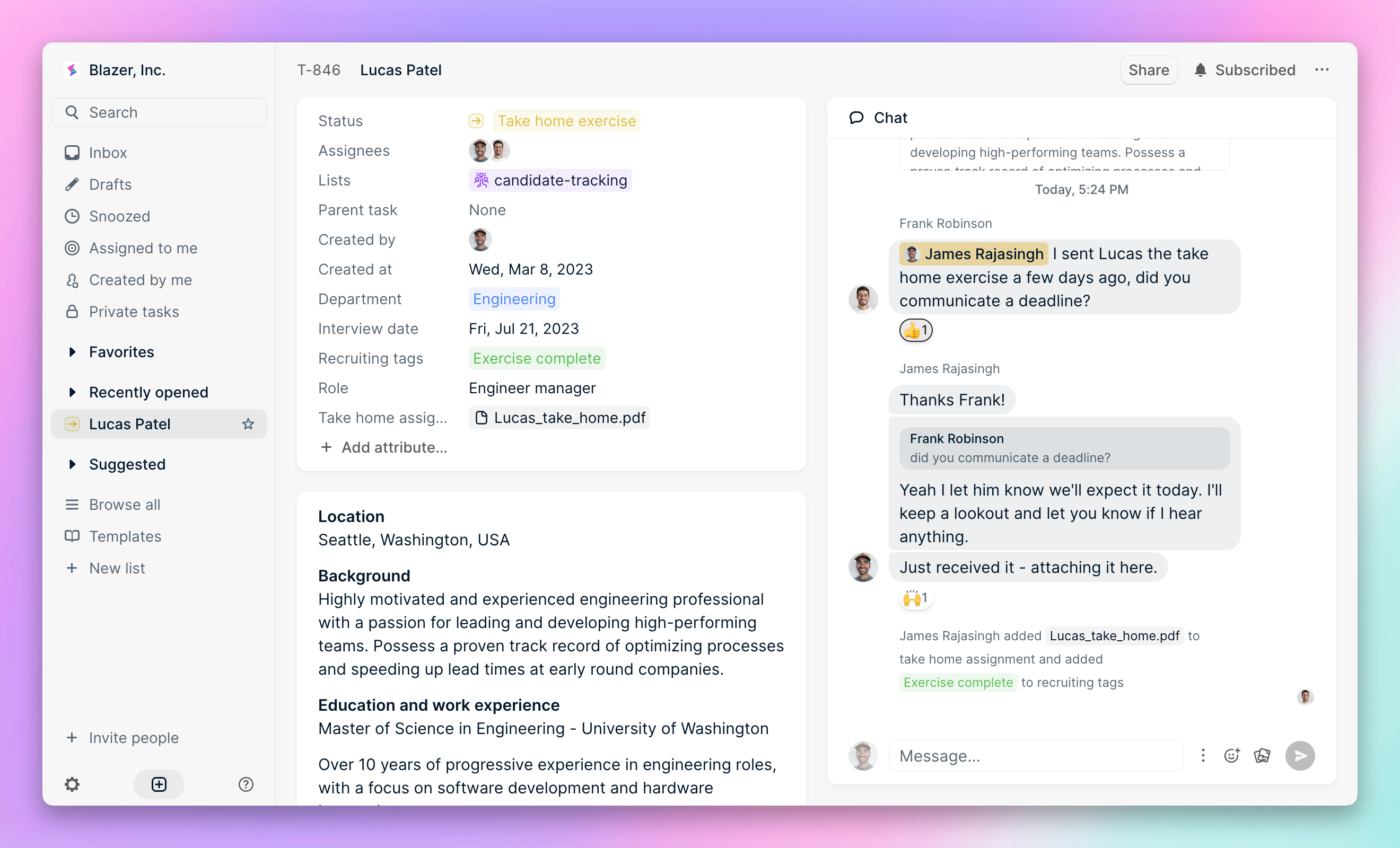 Our next priority? Centralizing all candidate conversation in one place
Once we started tracking candidates in Height, communication between hiring managers and interviewers became easier than ever, but we still had to work with our external recruiting agency to review candidates and coordinate interviews. This is where Task Forms came in handy: now, our external recruiters submit candidates via role-specific task forms in Height and participate on the tasks as guest contributors.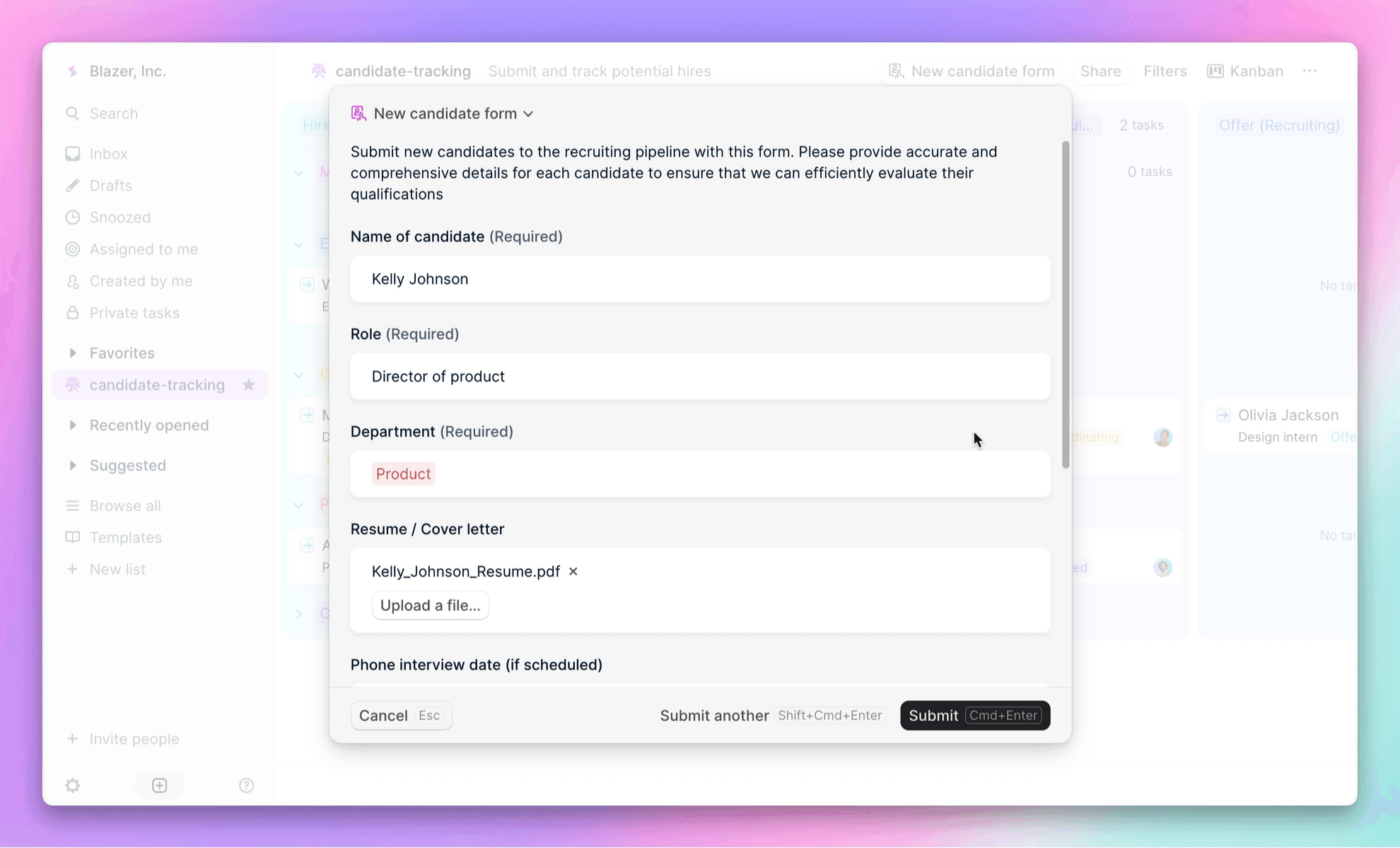 This gives them visibility into where in the funnel a candidate they referred is. It also makes it easier for them to work directly with hiring managers to answer outstanding questions or share key information on the candidate's role and salary expectations. Again, all of this serves to minimize delays and accelerate progress to a possible offer. And by submitting candidates as tasks directly on Height, if a hiring manager is ever out, it's of course effectively seamless for their colleague to step in with full context.
Faster response times followed, without sacrificing our core hiring values
The last key consideration for us while speeding up the recruiting process was to not do so at the cost of protecting candidate privacy. To do so, we made use of Height's robust privacy model. Our candidate tracking Kanban board is private to recruiters and hiring managers only — interviewers are added to specific tasks on an as-needed basis. Maintaining candidates' privacy without increasing delays in the process helps us uphold our hiring values every step of the way.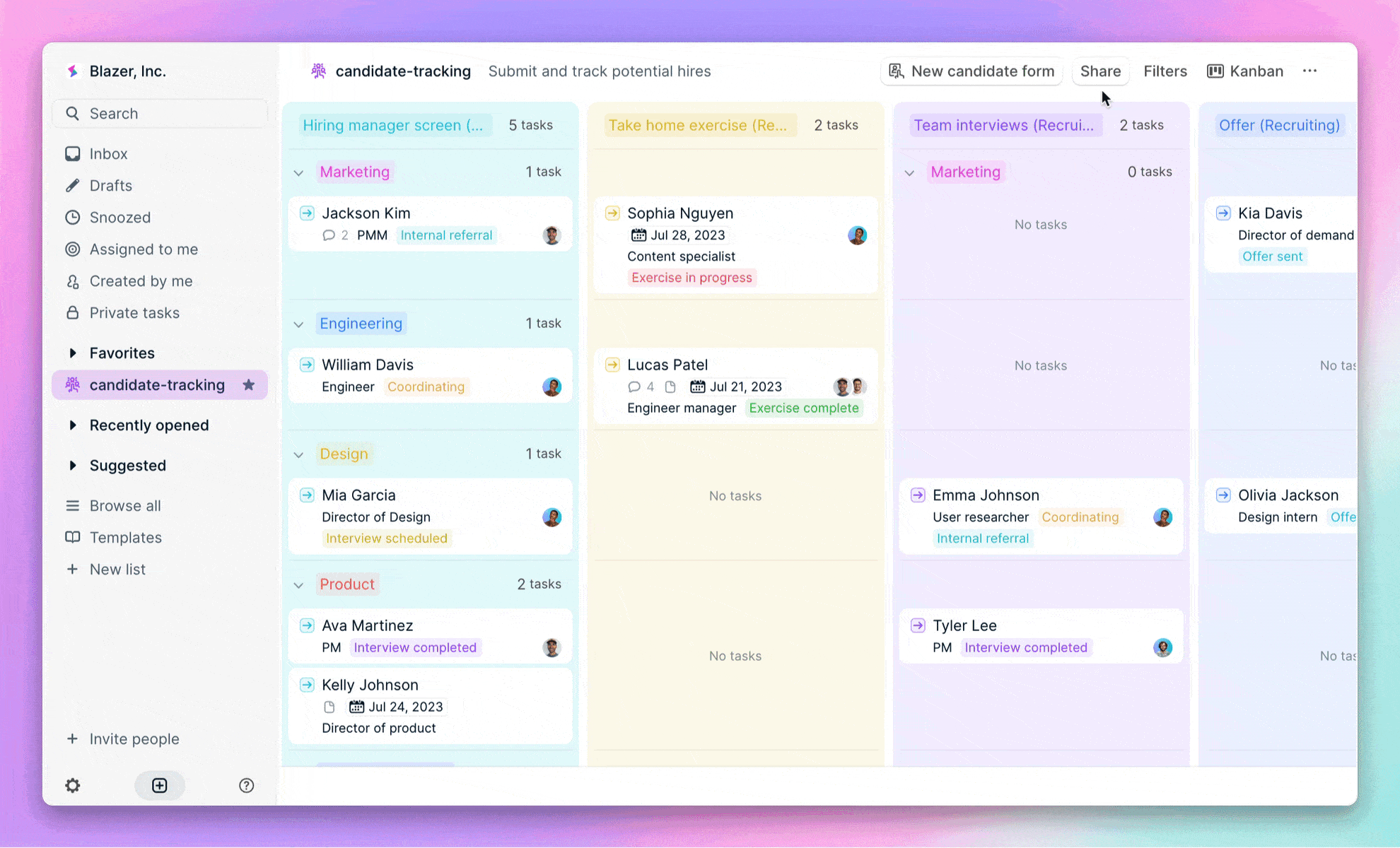 Set up an efficient recruiting process from the start to speed up product development velocity. At the end of the day, a robust candidate tracking system will directly improve your chances of closing strong candidates and meeting your hiring goals.
💡
Our
candidate tracking template
is pulled directly from the system we use at Height so you can start implementing a system in just a few clicks. Get it
here
!