Free 30 day Team plan trials
Curious about taking Height for a real spin? You can now start a 30 day free trial, complete with unlimited custom attributes, lists, task forms, and all of the other Team plan features.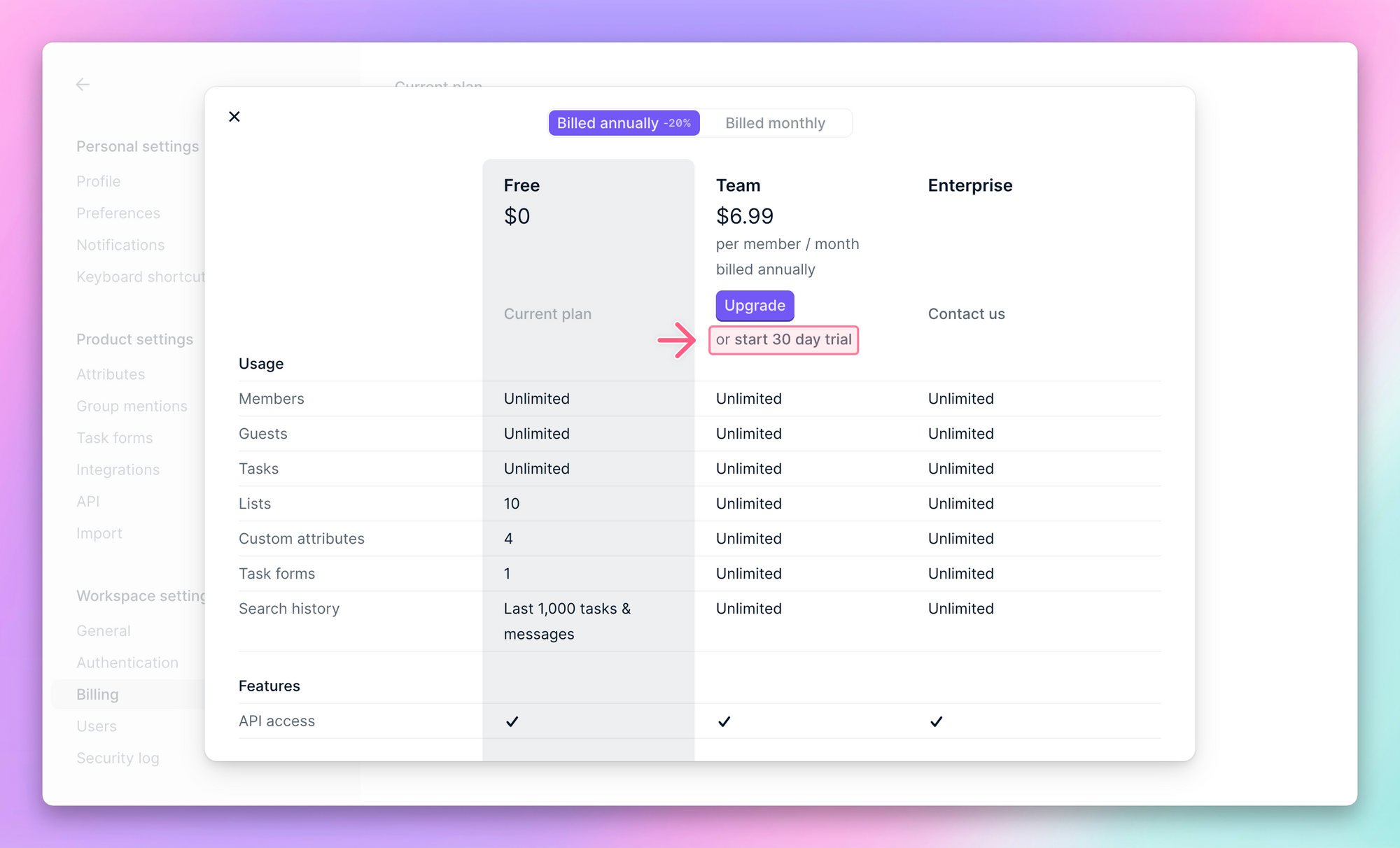 Inbox power-ups 💪
Stay on top of your Inbox with improvements, including the ability to sort and section Inbox conversations, show attributes, and multi-select conversations.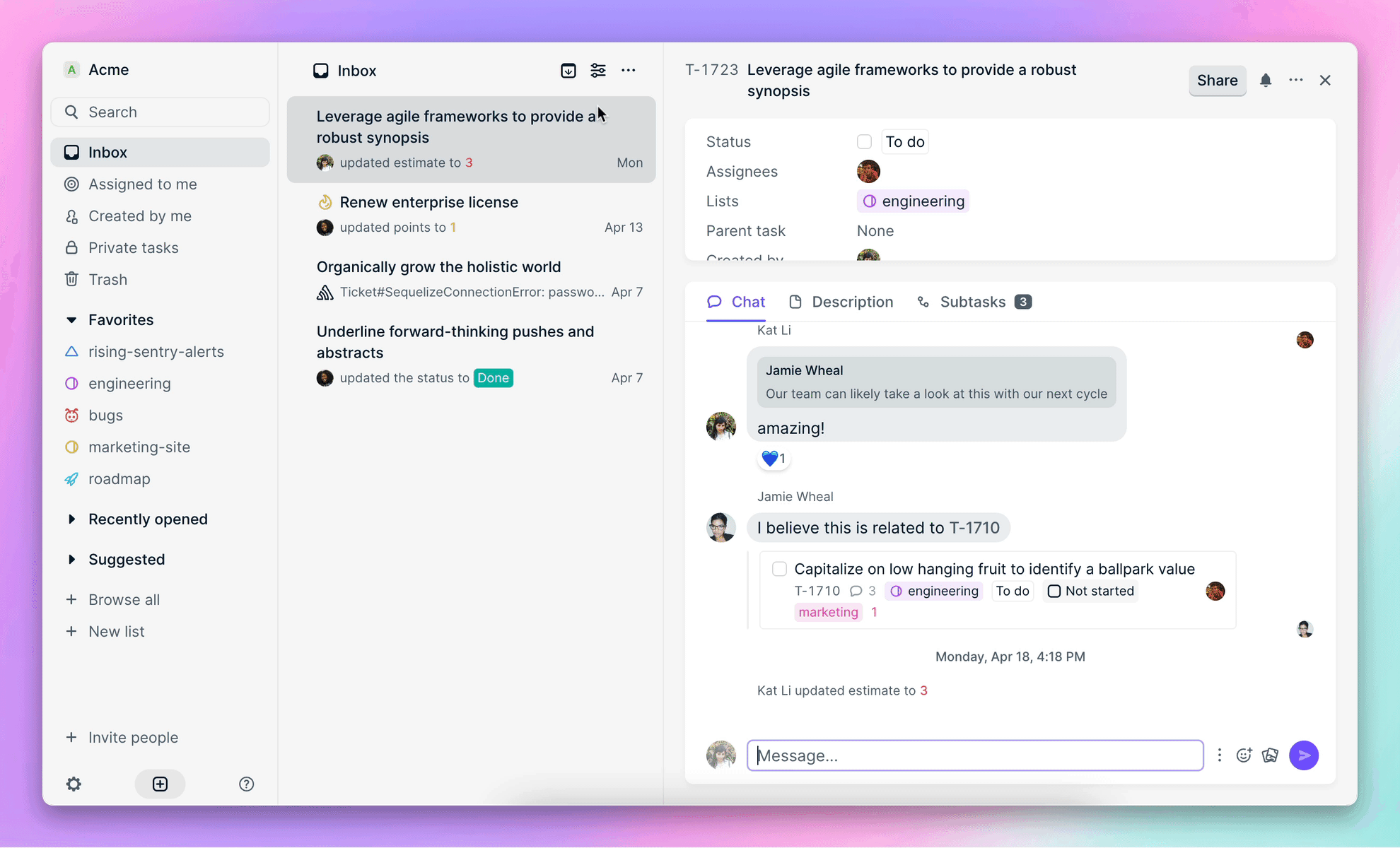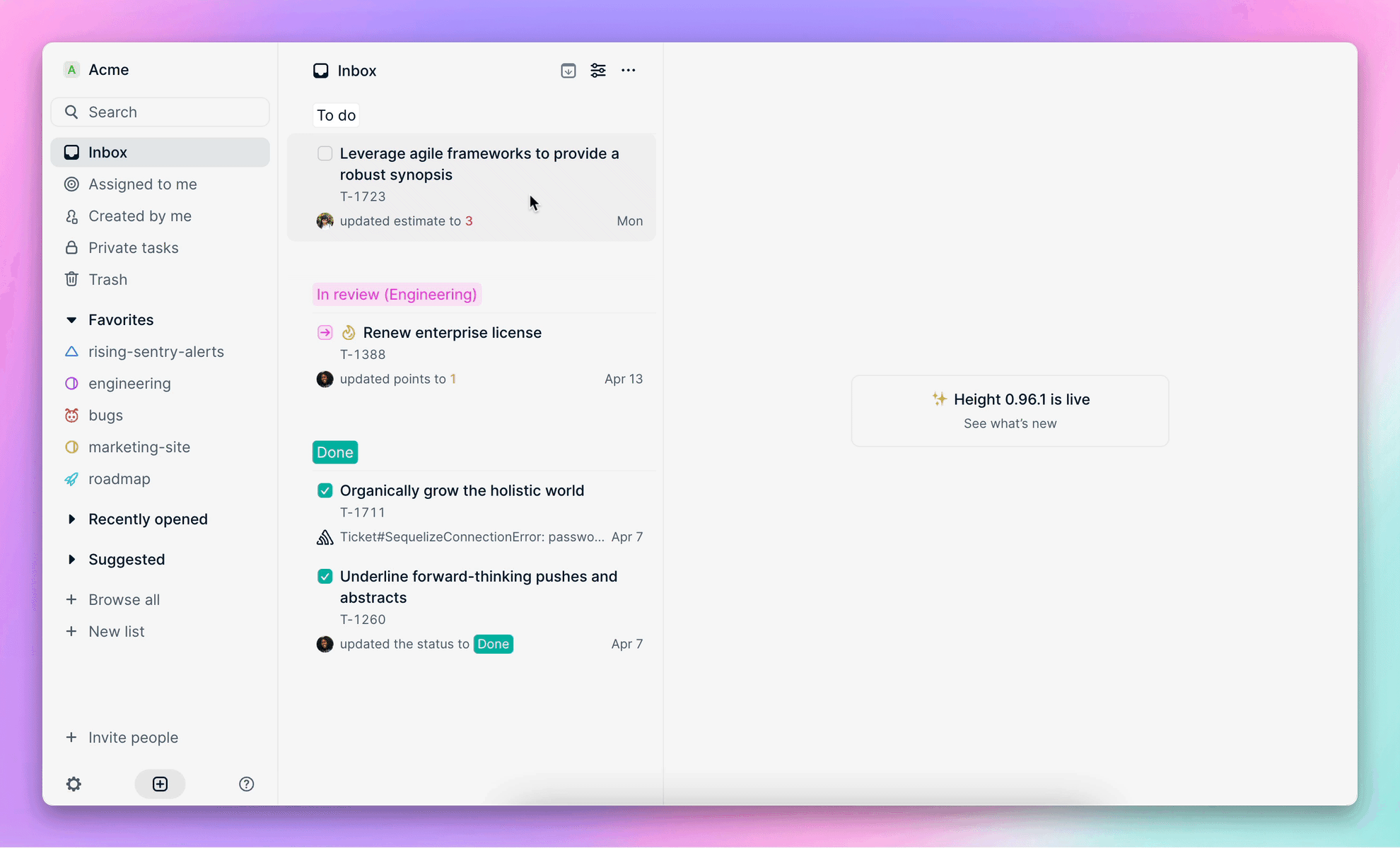 Set your preference for opening tasks as preview modals or fullscreen pages
Prefer to open tasks as fullscreen pages instead of preview modals? Just set your preference from Personal settings → Preferences.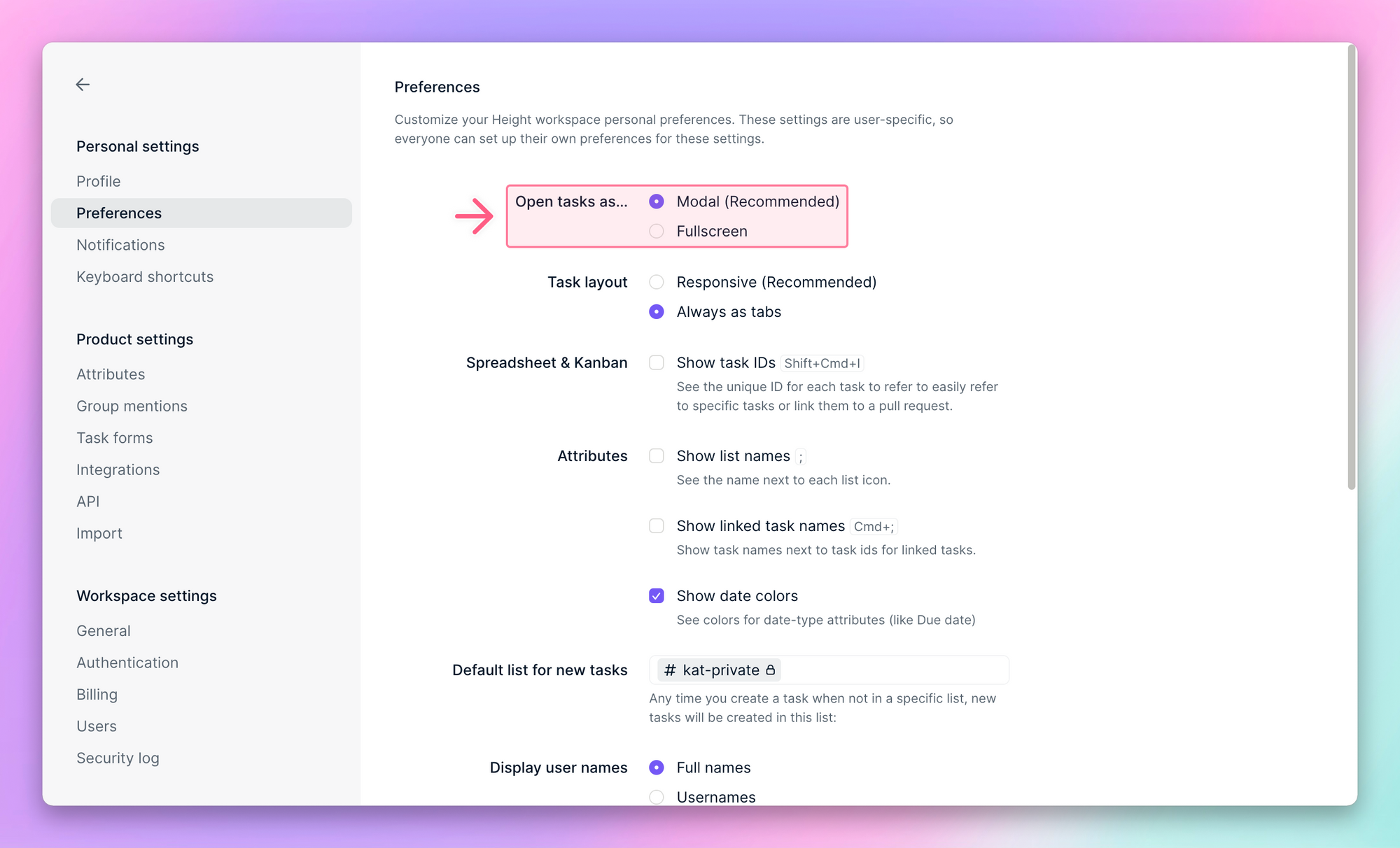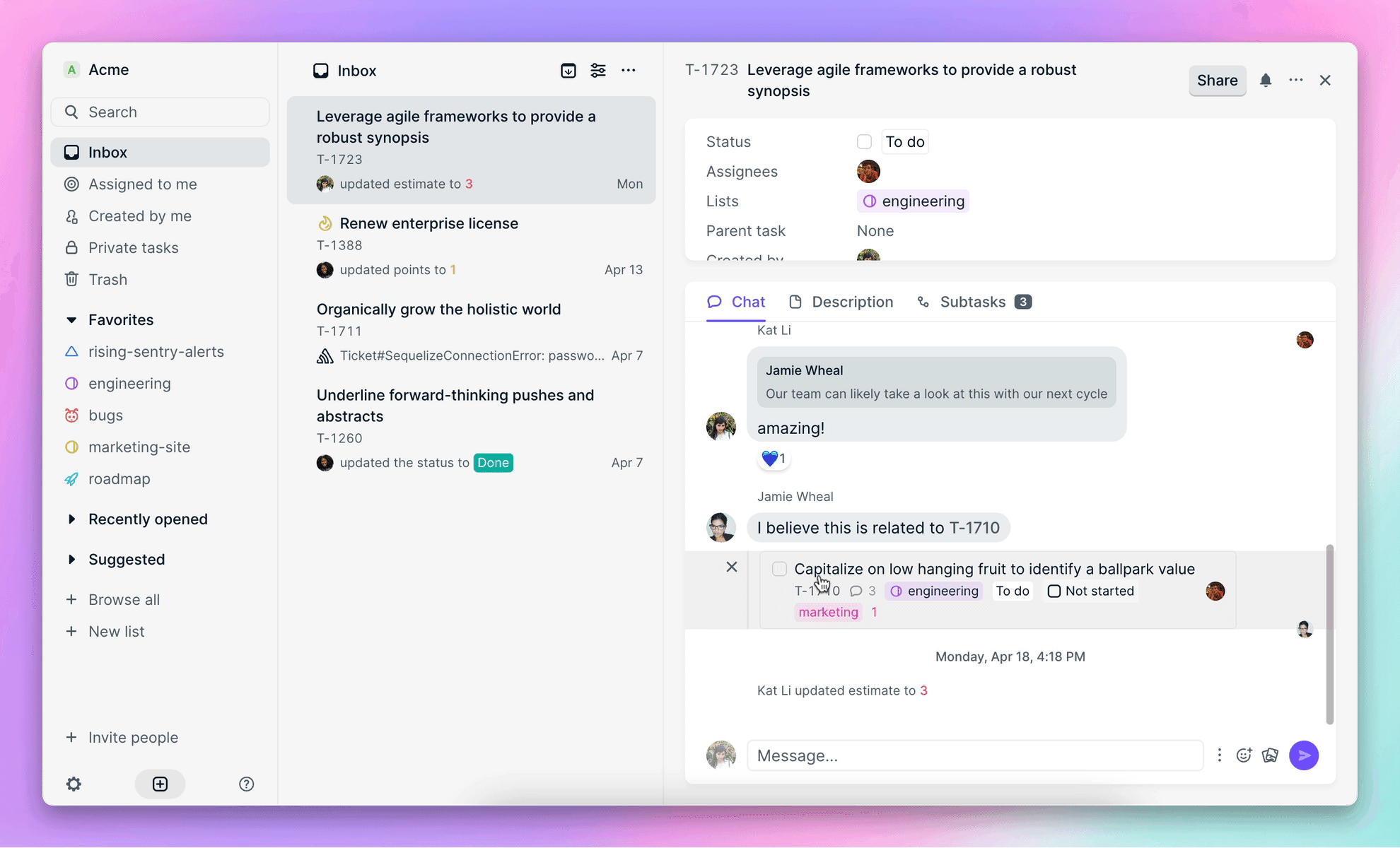 Improvements & bug fixes
Updated the Search API documentation.
Updated copy in the app to make it clear which features are included at the Team plan level and higher.
Added support for feedback banners for every command.
Added shortcuts to the feedback banners.
Fixed an issue where the billing plans header is transparent on Firefox.
Fixed a bug that caused lists to only show up to 100 tasks at a time.
Added support for paging of searches without a query.
Fixed an issue with Inbox conversation column not being manually resizable.
Fixed a bug that caused Inbox conversations to not show on small screens.
Fixed a regression that prevented being able to use the arrow keys to move across spreadsheet columns.
Updated the shortcut hint for Archive from Inbox.
Fixed an issue that caused clicking the remove unfurled task previews button to not correctly hide them.
Added support for space to open tasks as a modal.
Added support for a personal setting to open tasks as modals or fullscreen pages to Personal settings → Preferences.
Fixed an issue that caused a thin horizontal line to show up after authenticating your Discord integration.
Fixed an issue that prevented you from being able to edit task or list permissions from the Share menu on mobile web.
Fixed an issue that caused saving task form changes to sometimes show a validation error.
Fixed a bug that caused all conversations in Inbox to show your own avatar instead of the right user's.
Fixed a bug where completed tasks were showing in Cmd+p search even when the Show completed tasks toggle was off.
Added support to automatically cancel subscription plans for deleted workspaces.
Added a Done button to task pages on mobile web.
Fixed a bug where pressing escape when a task preview modal was open closed the underlying task instead of the preview modal.
Fixed a bug where opening a task preview modal from a message doesn't take you to the highlighted message place in chat.
Added a loading screen when opening a task.
Added Archive as an option when editing a list.
Fixed a bug where creating a task from chat reopens the new task modal after finishing creating the task.
Updated copy in task and list Share menus to make it clear you can invite a guest to just this task or list.