"Timesheets."
The grumbles and sighs this word elicits are a legacy of clunky, outdated time tracking processes. (After all, the first punch clock was invented in 1888. A lot has changed since then).  
Despite its bad rap, time tracking remains a strategic tool for teams to prioritize projects, boost productivity, and above all, increase profitability. And it doesn't need to be a dreaded necessity. By optimizing how you track time for how you actually work day-to-day, your team can tap into the full potential of timekeeping.
It's time to say "so long" to the pain and frustration of timesheets and say "hello" to a more efficient time tracking experience that feels like a breeze for your whole team.
Ready for a timesheet makeover? Here's what's in and what's out for setting up effortless time tracking workflows.
Out 👋: The hassle of logging work in 3 different places.
Our digital workspaces have become very disjointed. In fact, 76% of workers spend 1-3 hours a day simply moving data from one place to another.
Time tracking is a prime example of how tedious that is, usually requiring teams to manually map over task details from this tool to that, whether it's a spreadsheet, a separate time tracking tool, or another makeshift solution.
Not only does this compound the amount of time wasted — a problem that time tracking is actually meant to solve — but it's also error-prone, clunky, and contributes to your team procrastinating in submitting their timesheets.
In ✨: Make it easy for your team to track time in just one place.
Keeping track of the time you spend on a project is a lot easier when you do it in the same place you manage said project. With a built-in timer on Height, your team can clock in and out of a task in a click, with no interruptions to their workflow and no jumping between scattered tabs.
Shortcut the process even more by integrating tools like Harvest or Toggl to sync all your timer data to your timesheets instantly, without your team having to lift a finger. That's one less hoop to jump through to track time and more accurate time logs. Win-win.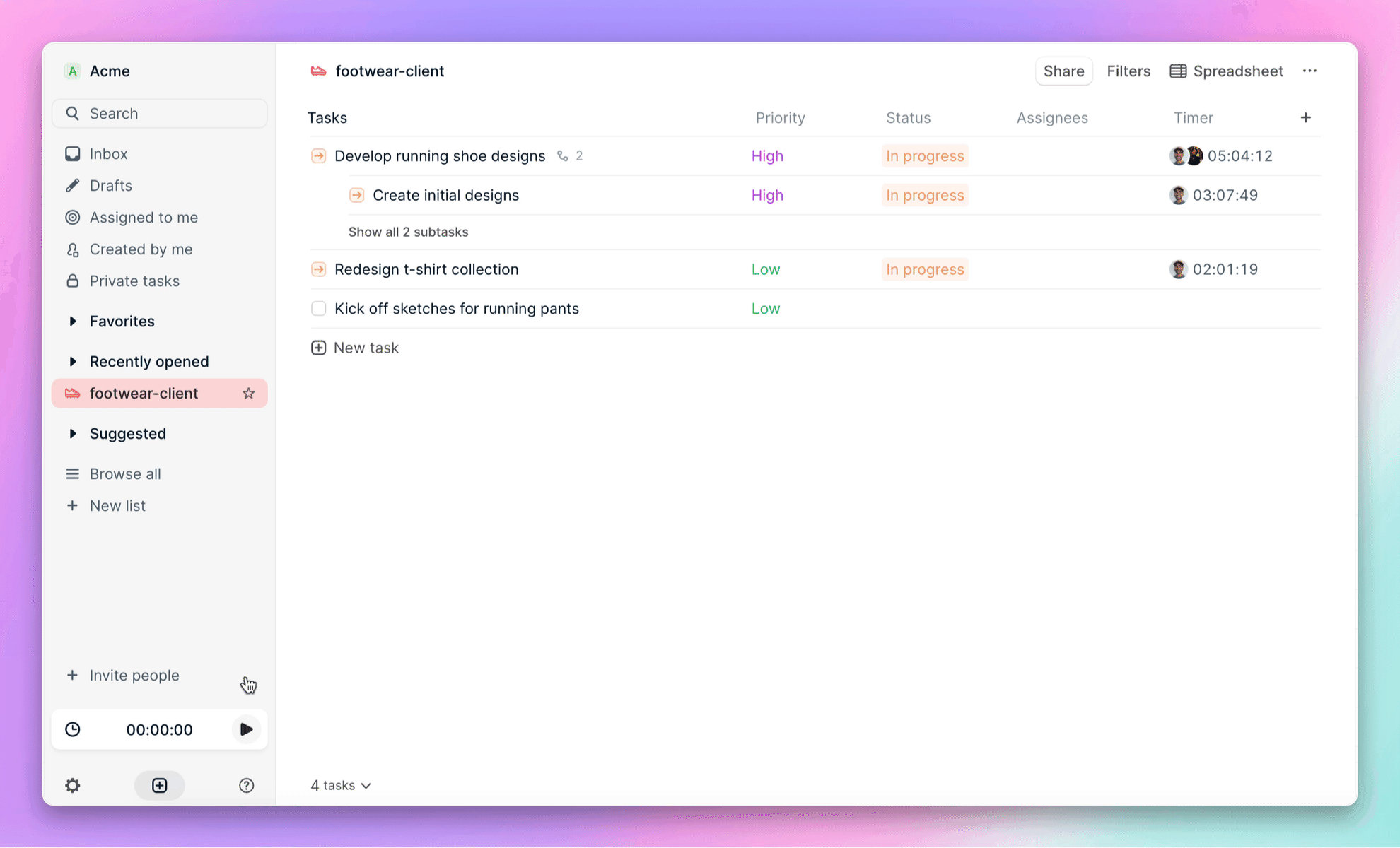 Out 👋:  Retroactively racking your brain for every task you touched this week
Multi-tasking is the name of the game, especially when working on concurrent client projects or juggling multiple high-priority tasks at once. The last thing the team wants to worry about is the detective work of identifying exactly how long they spent on tasks, one by one, each day. (Not to mention work they might consider "untrackable" like meetings, replying to emails, and other admin tasks throughout the week).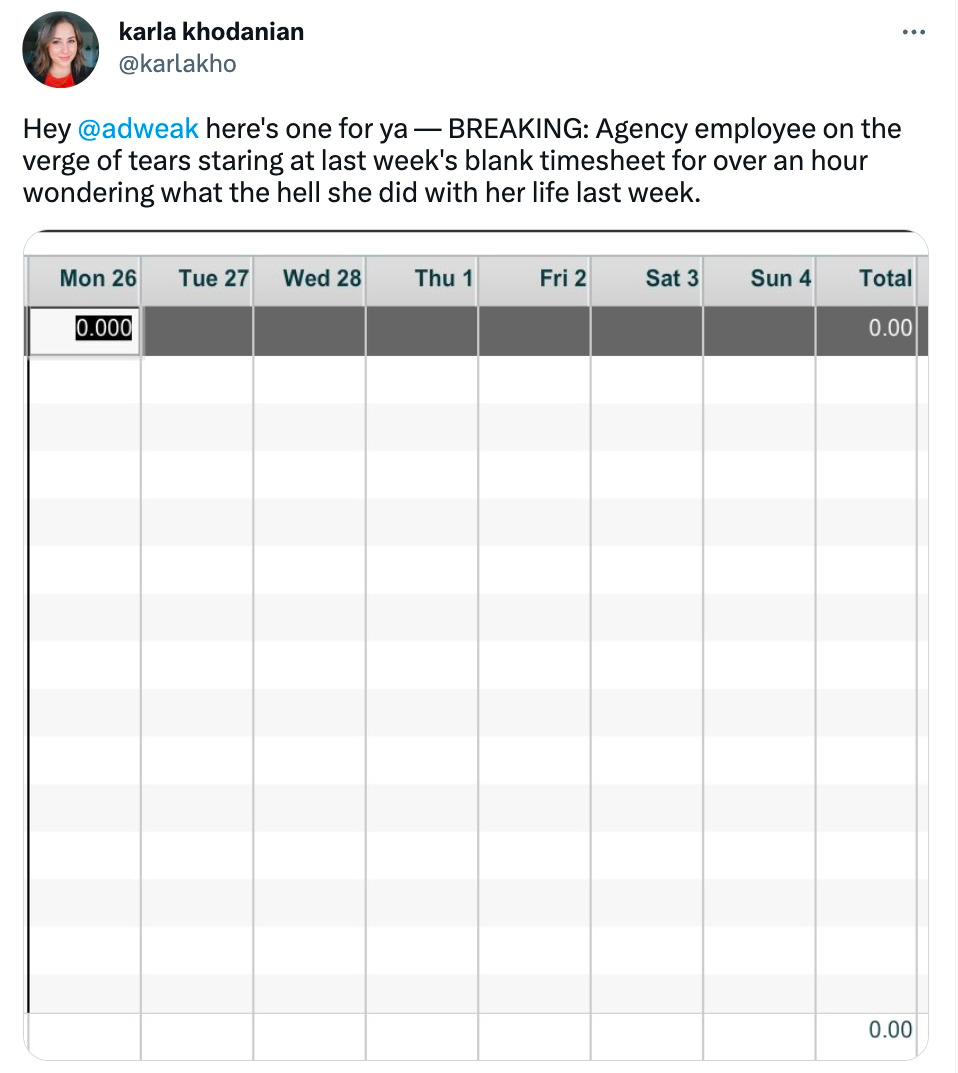 Details about work get obscured the longer your team takes to log their time. When timesheets are submitted daily, the amount of "lost" time is reduced by 80%, versus guesstimating where the time went retroactively at the end of the week. That's why it's important to cut down the time between when work is done and when hours are tracked to improve the accuracy of your timesheets and billing.
In ✨: Transform time tracking from a separate chore into a seamless part of your project management workflows.
By connecting timers to tasks, you take the pressure off your team to independently remember what they did minute-by-minute throughout the week. In Height, tasks act as a central record of all details, conversations, and decisions about a deliverable or project. Timers are an attribute of each task, and you can see exactly when timers were logged, by who, and for how long in the task chat.
Plus, since time entries on Toggl or Harvest are auto-synced in real time and reflect the corresponding task ID, you can trace back specific data from your timesheets if needed.

💡
Tip: You can set up recurring tasks for regular meetings or routine admin to track the time you spend on them.
Out 👋: Overlooking the value time tracking brings to everyone on the team
It's difficult to make the best use of your time when you can't identify your time sinks, bottlenecks, and misforecasted projects—and you can only get those insights when everyone on the team actively contributes to time tracking. The challenge is that teams often see a dichotomy between "real work" on deliverables and what they consider not-so-real work like tracking time.

Setting the groundwork for your time tracking efforts to succeed requires buy-in from your team, and showcasing how time reports benefit everyone across the board:
For leaders: clear and detailed time records help you make smarter business decisions, take on the right type of projects, and set better estimates for future projects.
For the team: consistent timer data illustrates how they deliver value and where they make the most impact, elevating time tracking from a frivolous chore to a useful productivity tool that shows them how to make the most of their workdays.
For clients: precise and transparent billing builds clients' trust in your work and reassures them that you're spending time efficiently on their projects.
In ✨: Leverage tracked time data to identify productivity (and counterproductivity) trends.
With Height Smart Lists, you can get insight into timer data at varying altitudes. If a leader is looking for high-level overviews of time logged on all client projects across the board, or you want to see how much time is going into non-billable tasks for a specific date range, powerful filters will help you slice and dice your time data.
Team members can also set up smart lists that round up all their timers during a given work period to better understand where they're spending their time and how to better manage their workload.
You can save and revisit these smart lists since they dynamically update whenever new tasks or timers are added that match your filters.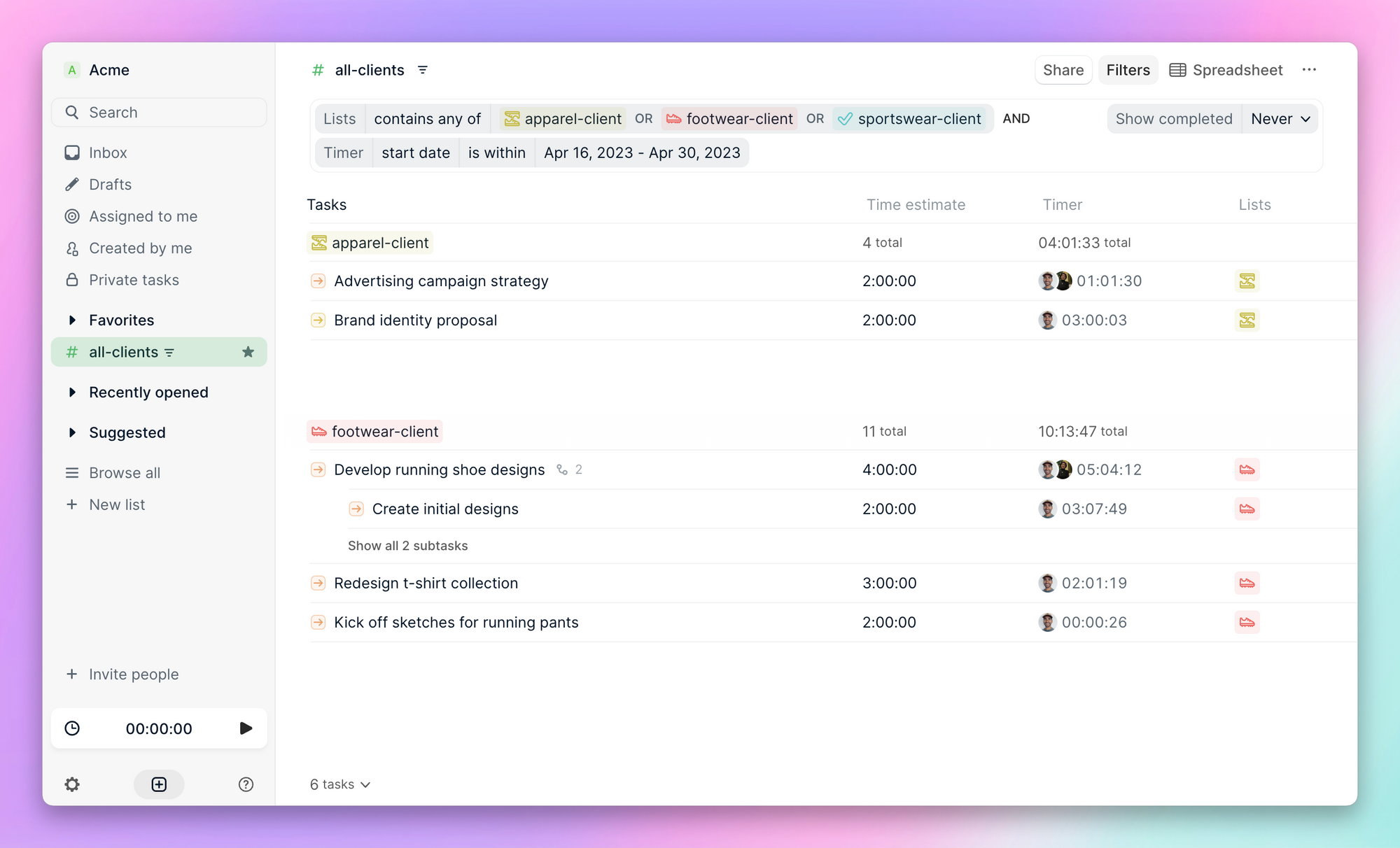 No more chasing timesheets. Chase your big goals instead.
Getting clear on how to make the most of your time starts with building a positive time tracking culture on your team. Here are three strategies to walk away with to get you started:
Log time in one place, only once.
Make time reporting part of your day-to-day project management workflows.
Communicate the value of time tracking and the insight it provides to the team.
Learn more about time tracking with Height and our integrations with Toggl and Harvest →