Gone are the days of clicking into a task or project, discovering dozens of new chat messages, and having to scroll back up and read every single one to get full context. Now, there's an easier (much faster!) way: meet Copilot Catch-Ups.
With our newest Copilot feature, you'll be able to effortlessly catch up on key points and progress, ensuring you stay informed and engaged in the project. With one click, Copilot will generate a custom summary for you of chat messages and key decisions, making it faster for you to jump in and start taking action. You can choose whether to summarize all of the chat messages on a task, or even just summarize a specific section of messages.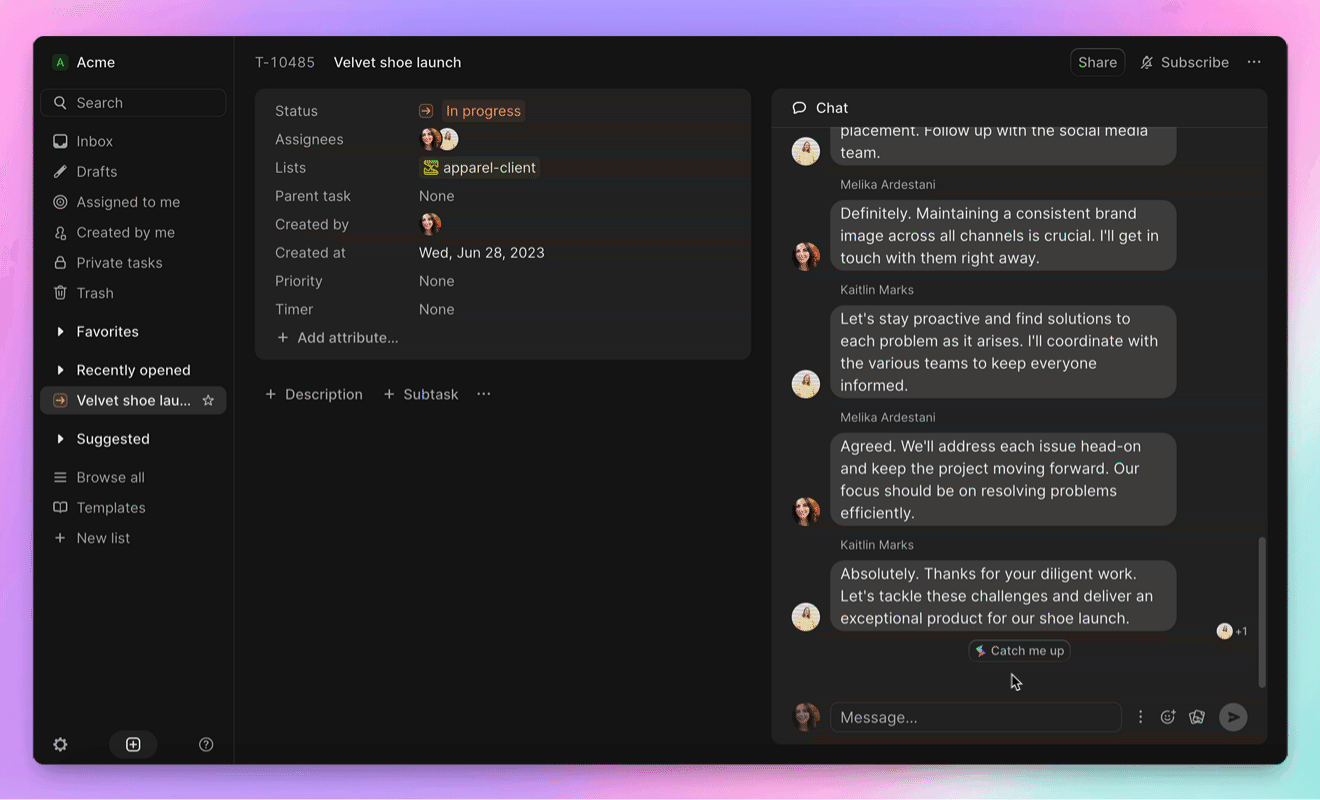 Less time spent reading through messages, more time doing the work that makes an impact.
Copilot Catch-Ups saves you time, improves task understanding, and enhances collaboration by summarizing chat conversations. Whether you're added to a project that's already in the works and need to get up to speed fast, or that task you've been working on for a few weeks just seems to have a never-ending thread of messages, you'll be able to get the information you need faster than ever before.
Work more accurately with full context summarized in a digestible way.
Let's face it: some tasks require a lot of back-and-forth before actions can be taken or decisions are made. Copilot Catch-Ups helps you understand the core of all those messages in one concise chat summary, so you're fully up to speed.
Collaborating with your teammates is smoother when everyone has the information they need. Copilot's helping shortcut the process of getting up to speed on task conversations, so everyone's able to contribute ideas and take action on an even playing field.
---
Having to scroll through pages of chat messages is one of the headaches that accompanies any collaborative tool. But we're working to change that — Copilot Catch-Ups does the (tedious) catch-up work for you so you can focus on what matters most.
Start trying Copilot Catch-Ups now in your Height workspace. Or, if you haven't already, sign up for Height and start experiencing the intersection of project management and AI.